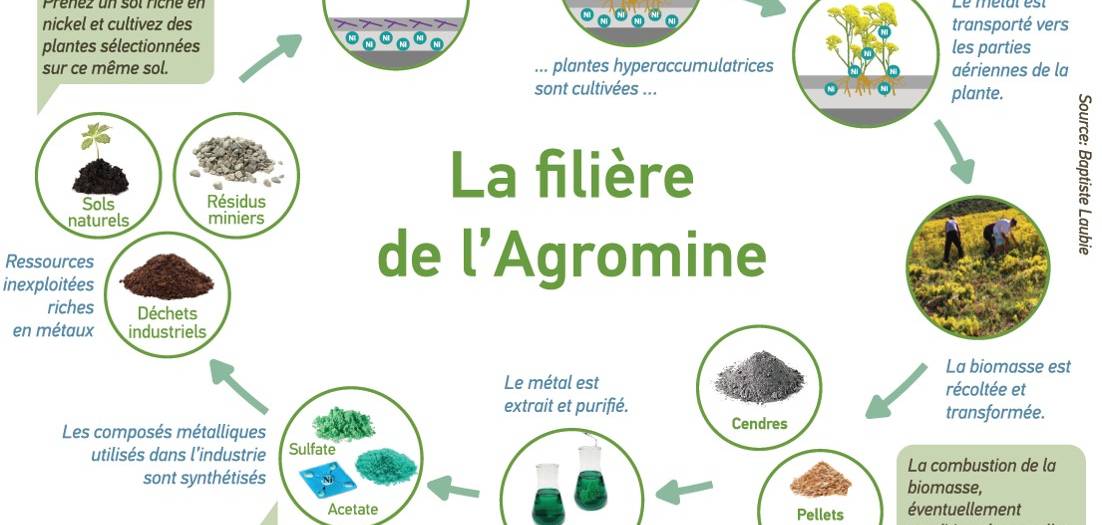 Agromine.
|
Posted on 2021-05-19 16:07
What do you see in common between these different plants: Alyssum mural, Leptoplax emarginata, Bornmuellera tymphaea?
They are what we call "hyperaccumulating" plants.
What are they so interesting will you think then?
Properly cultivated and planted, they become a formidable ecological weapon with extensive environmental applications and significant industrial benefits.
To grow efficiently, these plants need nitrogen, phosphorus and potassium. But that's not all. What makes them worthy of interest is that they are also capable of assimilating products which are usually toxic to other plants. Indeed, hyperaccumulative plants have the ability to store certain minerals such as zinc, cadmium, cobalt, manganese, nickel, rare earths among others. The principle is simple: they draw the metals present in the soil with their roots and store them in their aerial parts (leaves, stems, flowers, fruits).
Based on this observation, a team of researchers based in Lorraine, and a pioneer in the field, undertook to present a study project in agromine; namely, literally, the cultivation of the ore.
At a time when all industries are making considerable efforts to set up the circular economy, nature, for its part, has slowly found a way to achieve it. Hyperaccumulative plants are the result of genetic adaptation to highly mineralized environments.
So how can these plants be useful?
For a simple reason. They allow metals to be valued. We no longer speak of soil depollution by plants but rather of phytoextraction of metals. In other words and as curious as it sounds, it is about producing metal with plants!
The idea is to cultivate and exploit these plants in the ultramafic regions of the world (soils very rich in minerals). The plants will be harvested and then burned. They will produce energy and ash. The energy thus produced can be used to heat buildings or to produce electricity. In the ashes, the mineral extracts carefully stored by the plant will be recovered to be then recycled in industry.
All over the world we find soils naturally rich in minerals. But very often, the quantities contained are not sufficient to interest the mining industries. Agromine can therefore be presented as a gentle, efficient and eco-responsible alternative to the extraction of metals, the demand for which is growing strongly around the world. For example, let's take our plant from the beginning: the mural Alyssum. It is capable of accumulating 100 kg of nickel per hectare with conventional agronomic management and quantities of fertilizers compatible with local practices.
Agromine also makes it possible to revegetate poor soils, not very fertile and difficult to exploit by farmers because of their high metal content. This is shown by an interesting initiative carried out in Albania by local and French scientists, which perfectly demonstrates the potential of such a method. Aida Mani, an Albanian scientist who studies soil depollution processes using hyperaccumulating plants, is working to restore the image of the Alysson of the walls , considered harmful for a very long time by local peasants. The scientist explains that: " Wall Alyssum is a hyperaccumulative plant. Its roots draw nickel from the soil and it can store up to 2% of this metal in its tissues. It can extract metals from two types of soil. : soils naturally rich in heavy metals, and soils that have been contaminated by industrial and mining activity. " And the results are very promising. Aida Mani does not hide her joy when she declares that: " Two hundred kilos per hectare in 2015, we managed to harvest two hundred last year. We have doubled the yields by playing with the distance, the density of the plants, the mineral and organic fertilization, the time and the way of harvesting, but also by associating it with other plants such as legumes. "
In view of these encouraging results, the prospects for exploiting its plants in the world are immense. In Albania alone, for example, 11% of soils are ultramafic. And the world has a very large amount of soils that are highly loaded with metals. From then on, agromine could quickly become synonymous with new outlets and new sources of income for precarious farmers around the world. Aida Bani is convinced of this: " The opportunities offered by phytoextraction are of great interest to local farmers. By cultivating these hyperaccumulative plants, they can earn much more money than with forage plants: two, three, or even four times as much. " Opinion shared by a farmer who participates in the program: " By removing the nickel that harms our crops, this plant allows our land to be more productive. With this plant, everyone is a winner: the professor with her experimentation, and us, the farmers. "
In the end, nature shows us a new example of its adaptability. Let us know how to accompany it, help it and derive the best ecological benefit from it.
Posted on 2021-05-19 16:07