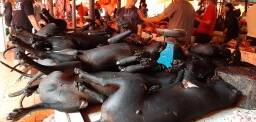 Dog meat in Indonesia.
|
Posted on 2022-03-14 10:50
Indonesian President Widodo urged to end sickeningly cruel dog meat trade as video exposes criminal gangs robbing and beating dogs to death to sell in wet markets where they could contribute to next pandemic
Indonesian President Joko Widodo and local leaders are facing renewed pressure to end the country's brutal dog meat trade after a sickening new video released by the Dog Meat Free Indonesia coalition - of which Humane Society International is member – reveals horrific animal cruelty and public health risks in the extremely wet markets of the island of Sulawesi. Dog and cat meat is seen being sold alongside bushmeat, including bats, snakes and wild boar, in scenes similar to those found in Wuhan, China, hence the SARS virus -CoV-2 would originate.
Calls to action include those from the UK Government Minister, the Rt Hon Lord Goldsmith, the Minister of State for the Pacific and the Environment at the Foreign, Commonwealth & Development Office and the Department for the Environment, Food and Rural Affairs. After watching the video sent by DMFI member Humane Society International, he wrote an urgent letter to the Indonesian Ambassador to the UK expressing his concern over the images of abused dogs in parts of Sulawesi.
Throughout Indonesia, an estimated one million dogs are killed for their meat each year. While a trade crackdown is seen in parts of Indonesia such as Central Java, authorities in Sulawesi – a 70,000 square mile island with a population of nearly 20 million – have failed to act. .
A DMFI investigator - which includes local activists Jakarta Animal Aid Network and Animals Friends Jogja, and international groups Humane Society International, Four Paws and Animals Asia - has infiltrated the criminal gangs and traders who are ruthlessly stealing at least 4,500 dogs from company and stray each month to villages in South Sulawesi, then sell them to traffickers to kill and sell meat in local restaurants and wet markets such as Langowan, Tomohon and Kawangkoan in the north. Some dogs are trafficked from as far away as Makassar, the capital of South Sulawesi, a grueling 40-hour journey covering 1,000 miles.
Investigator video shows traffickers hoisting terrified, howling dogs by their necks from an underground pit as they are repeatedly bludgeoned across the face and head. Other scenes in markets show cages of dogs huddled together as nearby the lifeless bodies of other dogs are burned with blowtorches to remove their fur for sale to customers. Some torch-burned dogs are visibly still alive during the ordeal.
Dog meat is not an expensive delicacy; a dish containing dog meat can be purchased at the market for around IDR 25,000-35,000, or around $2, which is the same price as a cup of coffee. This low price helps maintain cruelty on the scale revealed by the survey.
Lola Webber, director of End Dog Meat campaigns at DMFI member Humane Society International, said: "This is some of the worst animal cruelty we've seen - gangs and traders robbing and bludgeoning thousands of terrified and howling dogs every month in the villages, many beloved family companions. They are snatched and abused by these criminals in broad daylight, scared and helpless. All to be sold for their meat in restaurants and wet markets on display alongside bats, snakes and wild boars. As shocking as our investigation is, it is only a snapshot of the horrific scale of this trade. Despite the serious public health risks associated with these markets, the approximately 200 traditional markets in Sulawesi are still operating as usual. As Indonesia is still in the throes of the COVID-19 pandemic, with its origins in China's wildlife wet markets, just as we see in North Sulawesi, there is an urgent need for President Widodo to take immediate action to end this dangerous and illegal trade.
The DMFI investigator, who is not named for his own protection, said: " The scale of the dog meat trade was truly startling. Thieves steal dogs from all over the island before selling them to traders who store them until they have enough to take to market. Mentally it was a heartbreaking mission because every day I could see how terrified and traumatized these poor dogs were. All around them, they see other dogs being dragged by the neck, beaten on the head, thrown violently. They trembled with fear as they approached. Like me, the vast majority of Indonesians will be sickened by what I saw. This trade puts Indonesia to shame. »
DMFI is now seeking urgent meetings with provincial and municipal authorities in Tomohon, Manado, Minahasa and Makassar to call for immediate action. The coalition of animal groups is already working successfully with police and local governments in several other areas to crack down on the trade. In November last year, DMFI activists joined police in Sukoharjo in Java for an undercover operation at an illegal dog slaughterhouse that saw over 50 dogs rescued.
There are at least eight national laws and regulations which, if enforced, would serve to ban the trade, and so far five regions in Indonesia – Karanganyar (2019), Sukohrajo (2021), Salatiga City (2021), Malang (2022) and Semarang, the provincial capital of Central Java (2022) – passed explicit bans on the dog meat trade. DMFI is now calling on the authorities in Sulawesi to do the same.
Dog Meat Trade Facts:
Opinion

polls

show that only a small minority of the Indonesian population (4.5%) consume dog meat and only a very small number of people involved in the trade depend on dog meat as their main source of food. income. Although the demand for dog meat is higher in Sulawesi than the rest of Indonesia, the latest opinion poll by Nielsen (2021) confirms that only 6% of Sulawesians consume dogs.

Dog meat is mainly consumed by certain ethnic groups such as the Minahasa people of North Sulawesi where there are 24 markets collectively selling around 360 live and slaughtered dogs per day, or over 130,000 dogs every year.

In 2018, President Joko Widodo received a letter from the DMFI calling for action and signed by over 90 national and international celebrities, including Simon Cowell, Sophia Latjuba, Yeslin Wang, Nadia Mulya, Lawrence Enzela, Cameron Diaz, Chelsea Islan , Ellen DeGeneres and Pierce Brosnan.

Deadly rabies – a zoonotic disease endemic throughout Sulawesi – has also been linked to the dog meat trade in Asia by the World Health Organization. North Sulawesi, destination of thousands of trafficked dogs of unknown disease status, regularly reports some of the highest levels of human rabies mortality in Indonesia.

Indonesia relies heavily on tourists from around the world who care deeply about their own beloved pets. In 2019, Indonesia recorded 16.10 million foreign tourist arrivals, of which Australia was the 4th highest with nearly 1.4 million holidaymakers, the United States the 8th highest with nearly 460 000 visitors, and the UK 9th highest with nearly 400,000 tourists. More than 770,000 people also came from France, Germany and the Netherlands.

Across Asia, opposition to the dog and cat meat trade is growing, with an ever-increasing number of countries and territories (Taiwan, Hong Kong, Philippines, Thailand and two major cities in mainland China) banning the trade and slaughter, sale and consumption of dogs. In South Korea, a working group has been set up by the government to discuss a ban on dog meat following a suggestion by President Moon Jae-in.
Readers/viewers/listeners can get active by writing to the Indonesian government at www.hsi.org/sulawesi
Humane Society International and its partner organizations together constitute one of the largest animal welfare organizations in the world. For more than 20 years, HSI has worked to protect all animals through the use of science, advocacy, education, and hands-on programs. Celebrating animals and facing cruelty around the world – on the web at his.org.
Posted on 2022-03-14 10:50