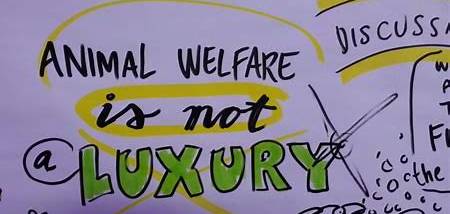 The EU and animal welfare.
|
Posted on 2021-10-13 12:00
At the Agriculture and Fisheries Council meeting on 12 October 2021, the Danish delegation presented an information note on the future review of EU animal welfare legislation. The briefing note calls on the European Commission to base the entire animal welfare framework on animal sensitivity and to implement the cage ban.

The briefing note was submitted on behalf of the Belgian, Danish, German, Dutch and Swedish delegations and refers to a position paper on 'a new EU legislative framework for animal welfare focused on the keeping of animals. 'animals', shared with the European Commission (EC) in September.
The group of Member States (Member States), also known as the 'Alliance Vught' , wants to ensure that the new legislative framework for animal welfare is ambitious and that it includes:
An update of the current legislation based on new scientific evidence , and also taking into account areas where practical experience has identified application problems due to overly general or imprecise provisions.
New specific legislation for animals which are kept or traded in the course of an economic activity, and where there is currently only very general legislation or no legislation.
The Animals Eurogroup welcomes the support of Member States for a review of animal welfare legislation for kept animals, including companion animals, as well as the mention of the commercial dimension.

More specifically, we rent:
Support

for

the ban on cages

and the comment that it is a "window of opportunity to rethink the entire framework," since this systemic change is what we call a long time.

The revolutionary recognition that animal sensitivity must be the basis for the development of new legislation before the useful value that animals can have for humans.
Support for new species-specific legislation for species that do not yet have one (chickens, broiler breeders, laying hen breeders, dairy cows, rabbits and turkeys).
Mention of indicators of animal origin as being just as important (if not more) than those based on resources.
The need for training for those responsible for the animals kept.
There is, however, one area where the Vught Alliance could have gone further is by including fish and equines as priority species, banning all mutilation and finally banning force-feeding for ducks and ducks. geese and cages for ducks, geese and quail.

Although Member States have different priorities, it is encouraging to rely heavily on the document presented by the Vught Alliance, without any Member State present having a dissenting voice.

"Member States today sent a strong message to the EC: animals are sentient beings and should be treated as such. This scientifically proven fact must become the basis for any future legislation. We now encourage the Commission to heed their call and to work on comprehensive and ambitious new legislation for kept animals to ensure lives worth living. "Said Reineke Hameleers, CEO of the Eurogroup for Animals.
Posted on 2021-10-13 12:00