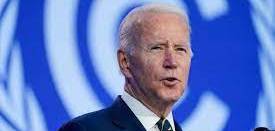 Limitation of methane in the US.
|
Posted on 2021-11-02 17:10
The Biden administration on Tuesday announced new rules to limit methane emissions from oil and gas drilling as well as actions to protect forests globally, as part of a series of measures unveiled by the House Blanche as President Joe Biden appears at the United Nations COP26 climate summit in Scotland.
As part of President Biden's plan to reduce methane emissions, a new measure from the Environmental Protection Agency (EPA) will expand and strengthen existing measures to regulate leak detection and repair. for the oil and gas industry. The rule follows an executive order signed by Biden on the first day of his tenure.
"This is one effect of greenhouse gas that is more powerful," said Biden before world leaders at the summit. "This is about half of the warming we are experiencing today - just exposure to methane. "
The United States and more than 90 countries have signed a pledge to reduce emissions of methane, one of the most potent greenhouse gases, by 30% below 2020 levels by 2030.
"And I think we could probably go beyond that," said the US president.
The White House estimates that the EPA rule will cover about 75% of all methane emissions in the United States. The Home Office is also planning a new rule to deter ventilation in order to disperse gas.
In addition, the Pipeline and Hazardous Materials Safety Administration will propose a series of new regulations to cover approximately 645,000 km of previously unregulated pipelines, including new safety requirements, mandatory inspections and leak monitoring. A separate PHMSA rule will target 3.7 million km of gas lines in cities that have not been regulated before.
Biden announced a new initiative to work with farmers and ranchers to promote "climate-smart farming practices" to reduce methane on farms. A separate initiative from the EPA aims to reduce food loss and waste in municipal landfills, another major source of methane in the United States.
"This is all part of our new methane strategy, which focuses on reducing the biggest source of methane emissions while putting thousands of skilled workers to work across the United States and I expect what in your countries too, " Biden said.
He added: "It's not just something we have to do" but "it's just a huge opportunity" .
Joe Biden's presence at such a high-stakes summit like COP 26, aimed at tackling global warming, comes as he has been unable to get his climate program approved at home, the Democrats in Congress still being divided over its $ 1.75 trillion spending envelope.
On the first day of the summit, Biden touted his "Build Back Better" proposal as "the single most important investment to tackle the climate crisis that an advanced nation has ever made" . But until it's passed, President Biden must largely rely on executive authority for his biggest climate announcements.
Joe Biden's plan to preserve forests includes a financial commitment from the United States of up to $ 9 billion. This sum is taken from the global amount that America has planned to devote to its effort to fight global climate change by 2030.
Other components include incentives for forest preservation and restoration, as well as efforts to increase private investment and data collection for forest protection.
More than 100 world leaders in Glasgow pledged to halt and reverse forest loss and land degradation by 2030 in what amounts, effectively, to the first major international agreement of COP26. Depleted forests accelerate climate change because forests help absorb large amounts of carbon dioxide. They no longer fulfill their roles as carbon sinks.
"Forests are our key allies in the fight against climate change - are home to more than three quarters of the earth's life, including millions of people who depend on forests for their livelihoods. It's great to see world leaders listen to science and recognize that nature is crucial to reaching 1.5 Celsius, " said Tanya Steele, Managing Director of the UK Office of the World WildLife Fund, referring to the global temperature limit targeted by climate negotiators in Glasgow.
In brief remarks Tuesday to world leaders, Biden said preserving forests was an "indispensable" part of his climate agenda. "We need to approach this issue with the same seriousness as decarbonizing our economy. "
To promote greater innovation, Biden also plans to announce a new "go-getter coalition" with 25 founding members from tech and other industries - including big companies like Apple - who are each committed to clean energy. It will push businesses to use renewables to offset demand for electricity through a new supply platform that businesses can access.
The President also stressed the importance of a " sustainable agricultural sector" and a "next generation of nuclear technology" as key elements in the growth of the clean technology economy.
Greta Thunberg criticizes COP26
Other news from the summit suggested downgraded ambitions.
India has pledged to reduce its greenhouse gas emissions to net zero emissions - carbon neutral - by 2070, missing the US and EU target of 20 years. India is the world's fourth largest emitter of greenhouse gases after China, the United States and the EU. China has pledged to achieve net zero emissions by 2060, ten years after the US and EU target.
And climate activist Greta Thunberg appeared at a protest in Glasgow on Monday, in which she told protesters and gathered media that COP26 leaders and diplomats were just "pretending to take our future seriously " .
She said "change won't come from within there" , referring to the sprawling site of COP26 on the banks of the River Clyde in Glasgow.
"This COP26 is so far like the PREVIOUS ones and it got us nowhere. They got us nowhere , "she said. "In the COP, there are only politicians and people in power who pretend to take our future seriously, who pretend to take into consideration the people who are already affected today by the climate crisis. "
Jean Su, director of energy justice at the nonprofit Center for Biological Diversity , said Biden's announcement on the new methane rules was important. However, she said, "Reducing methane emissions from the oil and gas sector is not enough to meet science-based climate goals without also limiting fossil fuel production. If Biden is to be a true climate leader, he must set a methane leak rate near zero and end approvals for new oil and gas projects to avoid cataclysmic warming. "
Still, Debbie Sariñana, a Democrat in the New Mexico House of Representatives, said the summit, for her, was also an opportunity to "listen to and learn from each other ." A high school math teacher, Sariñana is hoping Congress adopts Joe Biden's climate package, but she has also traveled to Glasgow to look for ways to excite and energize her students on a topic that may, to some, seem abstract and remote despite the fact that New Mexico is home to many conventional fossil fuel power plants.
"We have to respond to the emergency," she said. "We need to be able to show our children how urgent it is. The president is expected to declare a climate emergency. "
Posted on 2021-11-02 17:10