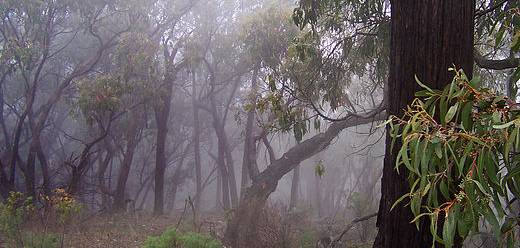 Climate change in Australia.
|
Posted on 2021-07-16 07:00
From drought in rainforests to torrential rains, Australia's climate is changing
Australia's tropical rainforests will dry up, marine and land heatwaves will become more frequent and intense, and thunderstorms will dump more rain and worsen flooding as the globe warms. These are just some of the many impacts of climate change that will plague the country further unless atmospheric levels of greenhouse gases stabilize, according to the final report of the government's Center for Earth Systems and Climate Change. Australian Federal.
"Research has established a clear link between climate change and worsening bushfire weather conditions over the past 70 years," concludes the centre's final report.
The work of more than 100 researchers, which will be expanded into a new center dedicated to climate systems, has made progress in areas ranging from forecasting bushfires to early identification of the role climate change plays. "It is clear that climate change is already happening and is having impacts," said David Karoly, the head of the Earth Systems Hub which completed its work on June 30. The hub's accomplishments include "massively successful" improvements to the main ACCESS climate model used by Australian governments and agencies to refine future forecasts on a smaller scale than before, he said.
The ancient rainforests of the Gondwanan region of Queensland and New South Wales, which get up to 40% of their moisture from the clouds around them, face a drier and warmer climate future. The final report established that there was "a clear link between climate change and the deterioration of bushfire weather conditions over the past 70 years", and singled out the World Heritage-listed rainforests of Gondwana as a matter of concern.
The forests, which stretch from north Newcastle in NSW to southern Queensland, have been hit hard by the 2019-20 black summer bushfires and are expected to become drier as the clouds and fog that provide up to 40% of the humidity increase in a warmer climate. "Higher cloud height, especially during the dry season, could lead to a dry climate that exceeds the tolerance of some species, leading to changes in the biodiversity of the rainforest," the report found, adding that "even moderate increases in cloud heights were found to have significant implications for cloud water dependent species ". Professor Karoly said that although the lineage of forests dates back millions of years, changes were taking place within a hundred years; The pace is far too fast for the species to manage to adapt.
Likewise, one can observe rapid changes occurring in the oceans around Australia; changes that residents are facing for the first time. The Tasman Sea, for example, is warming four times faster than the global average, in part because the East Australian Current strengthens and carries tropical waters much further south. Key ecosystems, such as the giant kelp forests off Tasmania, are threatened by more frequent heat waves. "A marine heat wave [in the Tasman Sea] of similar intensity to those of 2015-16 and 2017-18 is currently expected to occur about once every 20 years," the report said. "In a [global] low-emission scenario, it is expected to occur once every 15 years by the end of the century, and in the high-emission scenario, a marine heat wave is expected to occur. happen almost every year. "
Thunderstorms are also closely studied, including how the number of dangerous clouds known as "pyrocumulonimbus" formed from the plumes of bushfires. At least 35 of them were detected during the black summer, which increases the risk of irregular winds and therefore intensifies the unpredictable behavior of the fire as well as the risk of starting new fires, the report noted.
The east coast lows, another significant weather event affecting coastal areas from Queensland to Victoria, were among the changing phenomena. The hub developed new ways of analyzing complex storms and found that the most extreme precipitation near eastern Australia was frequently caused by such low pressure systems combining with a front and a thunderstorm. The researchers found that the short-lived events produced by thunderstorms could potentially increase in intensity by about 15 percent for each additional degree of global warming.
Andy Pitman, head of the ARC Center of Excellence for the Study of Extreme Weather Events and advisor to the hub, said east coast lows were "one of the least effectively studied phenomena in Australia" , although their impacts can be huge in terms of flooding, storm surges and wind damage. "I'm worried about how unprepared we are for any climate signals regarding these lows," he said.
At the other end of the weather spectrum was what are known as sudden droughts, another area of research for the center. These are triggered by below-average precipitation, accompanied by unusually high temperatures, a dry atmosphere, clear skies and more sunshine, and can be hazardous to crops. Researchers have shown that sudden droughts can be predicted, and can occur even in winter. The new center for his studies cost $ 23.4 million, with contributions from CSIRO, the Bureau of Meteorology and five universities, including the University of Melbourne and the University of New South Wales. It has been awarded $ 38 million in federal funding over six years. Although hailed, "we are not investing enough given the scale of the risk," said Prof Pitman, adding that the new funding was "not even a year's salary for a top football player. level ".
Simon Marsland, a senior scientist at CSIRO who will lead the new Climate Systems Hub, said how communities could adapt to the impacts of coming warming will be a priority, as will efforts to work closely with communities. indigenous populations who are often particularly exposed to extreme weather conditions.
Dr. Marsland noted that the current record heat wave in Canada, with temperatures of nearly 50 degrees recorded even at a latitude as far as 50 degrees north, was "a good reminder that climate change is here. and now and not something in the distant future ".
Posted on 2021-07-16 07:00