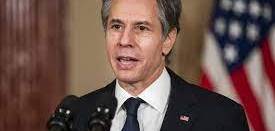 Anthony Blinken.
|
Posted on 2021-04-20 16:45
The Biden administration is clearly determined to regain leadership in the fight for the climate and to make up for the four years delay taken by Donald Trump since the United States left the Paris Agreement.
A few days ago, Joe Biden announced that he had concluded an alliance with China in order to intensify the fight against the rise in temperatures. Today, it is the turn of the American Secretary of State, Anthony Blinken, to drive the point home and to confirm the return of the United States on the front of the scene. In a phrase as compelling as it is resolute, he declares: "If America does not lead the world in the management of the climate crisis, there will not be much left of our planet".
For this, Anthony Blinken intends to wage a merciless fight against coal and to follow very closely the countries which continue to exploit this fossil energy responsible for the release of very large quantities of CO² into the atmosphere. Still in the same vein, Anthony Blinken continues: "Our diplomats will challenge the practices of countries whose action - or inaction - is holding us back. When countries continue to depend on coal for a significant portion of their energy or invest in new coal-fired power plants, or allow massive deforestation, they will hear from the United States and our partners how much these actions are harmful ".
If many nations will comply with the remonstrances of the United States, what will happen to a country like China which remains the main global emitter of greenhouse gases and which has about half of the production? world of coal-fired electricity? The United States is not, either, exempt from all reproach in the matter when we know the actions carried out by Donald Trump to defend coal producers in his country.
In addition, the Secretary of State takes the opportunity to declare open the climate competition with China. If the latter publicly tackled America a few days ago by declaring that the "bad student" was back in class, the Biden Administration acknowledges its delay and reaffirms its determination to recover his rank: "For the moment we are late. China is the largest producer and exporter of solar panels, wind turbines, batteries, electric vehicles. It holds nearly a third of the world's renewable energy patents. If we don't catch up, America will miss the opportunity to shape the world's climate future in a manner consistent with our interests and values, and we will lose countless jobs for Americans " .
In the end, Anthony Blinken will punctuate his intervention on an optimistic note by assuring that, in the case of a good management of the climate crisis: "We will capitalize on the greatest opportunity for generations to create quality jobs; we will build a more equitable, healthier and more sustainable society; and we will protect this beautiful planet ".
Posted on 2021-04-20 16:45