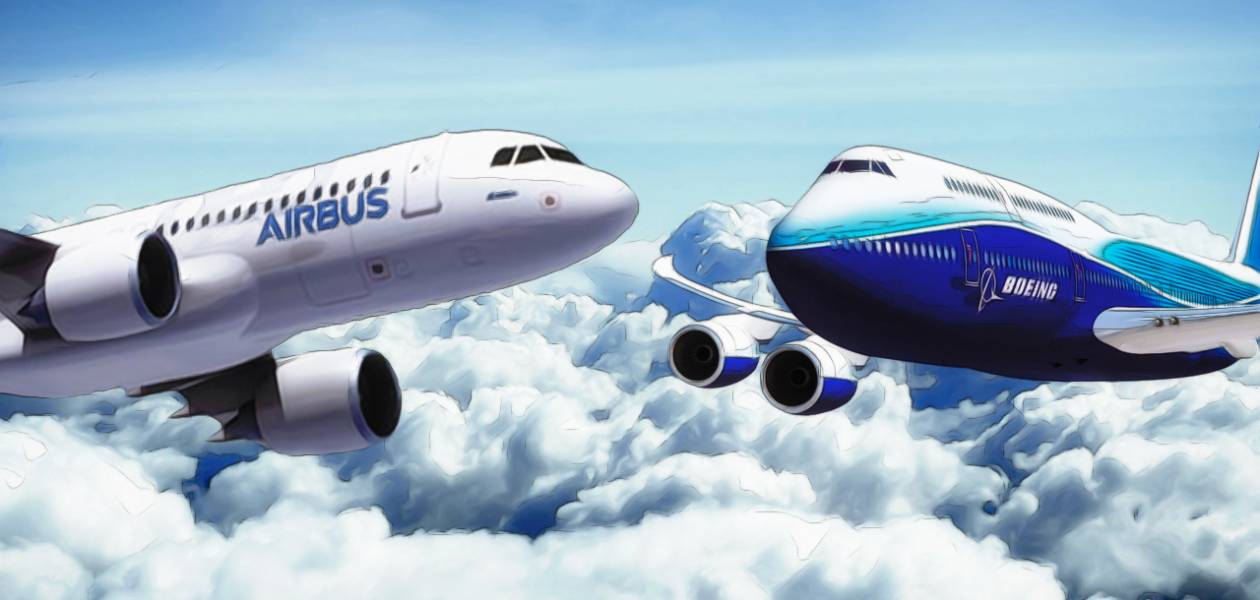 Airbus & Boeing
|
Posted on 2021-03-29 19:00
The aeronautics sector is undergoing rapid change and is continuing its efforts to achieve the objective of halving its greenhouse gas emissions by 2050.
This is how we were able to see in the sky over Toulouse, on March 18, 2021, the first flight of an A350-900 powered with 100% organic fuel. Equipped with Rolls Royce engines, the purpose of this first flight was to measure CO² emissions in flight as well as to study the behavior of the aircraft. Airbus expects results to match its ambitious commitments towards decarbonising its activity.
Responsible for 2% of the planet's CO2 emissions, the aviation sector must react and find solutions in order to bring the world of aviation towards ecological transition thanks to materials and fuels that are more environmentally friendly. environment. Alternative fuels such as biofuel raise high hopes because it could reduce CO² emissions by 80% compared to kerosene.
The European aircraft manufacturer has been exploring some areas of development for several years now. First of all, concerning the materials used in the manufacture of the aircraft which will contribute, more and more, to lower fuel consumption thanks to better performance. Then, a new generation of compatible bio engines will arrive on the market. Up to now, airplanes can only operate with a mixture of 50% or less of sustainable fuel and fossil kerosene. Airbus has been offering its customers the possibility of taking delivery of new planes from Toulouse for 5 years, using a mixture of biofuel.
But now we have to go further. This is what Steven Le Moing, head of the new energies program at Airbus, stated in substance, "sustainable aviation fuel is an essential axis of Airbus' ambition to decarbonize the aeronautics industry. We are working closely with a number of partners to ensure a sustainable future for air transport ".
With this first flight on March 18, Airbus intends to take it to the next level by very quickly developing planes using 100% biofuels.
For its part, Boeing does the same. Its objective is to put airplanes running on 100% organic fuels into circulation in 10 years. Stan Deal, head of civil aircraft at Boeing, said on this subject: "To meet the aviation sector's commitment to reduce its carbon emissions by 50% compared to 2005 levels by 2050, planes must be able to use 100% sustainable aviation fuels well before 2050. Our industry and our customers are committed to tackling climate change and sustainable aviation fuels are the safest and most measurable solution to reducing aviation carbon in the decades to come ".
It was in 2018 that the American aircraft manufacturer inaugurated its first flight with alternative fuel. A FedEx 777 freighter took to the air with 100% organic fuel on board.
In the end, the two major players in the aviation sector intend to make the activity of their groups rhyme with sustainable development. In a difficult period for civil aviation, torn between the pandemic which has brought down air traffic, respect for environmental commitments and customer disaffection, Airbus and Boeing are working hard to ensure that the sector is no longer singled out.
These inaugural flights on both sides of the Atlantic are therefore auspicious and send strong signals to customers and passengers. Biofuels can prove to be a good alternative, although this is not without causing some problems such as, for example, its supply. But that does not matter because solutions will be found in this area as well. Still, the future of air transport is here.
Until soon the new fuel: hydrogen.
Posted on 2021-03-29 19:00