Transport of monkeys by Egyptair.
|
Posted on 2022-07-29 16:28
Activists from PETA France visited the EGYPTAIR terminal at Paris-Charles-de-Gaulle airport today with an important message: "Cruelty does not fly away: EGYPTAIR, stop shipping monkeys" .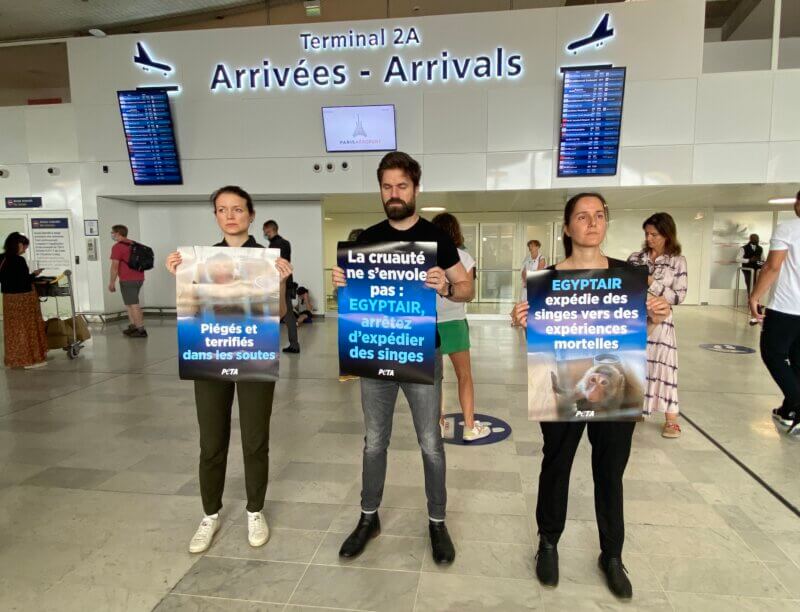 This action follows the launch of a campaign by international entities of PETA asking EGYPTAIR to follow the example of other airlines and stop transporting monkeys to laboratories.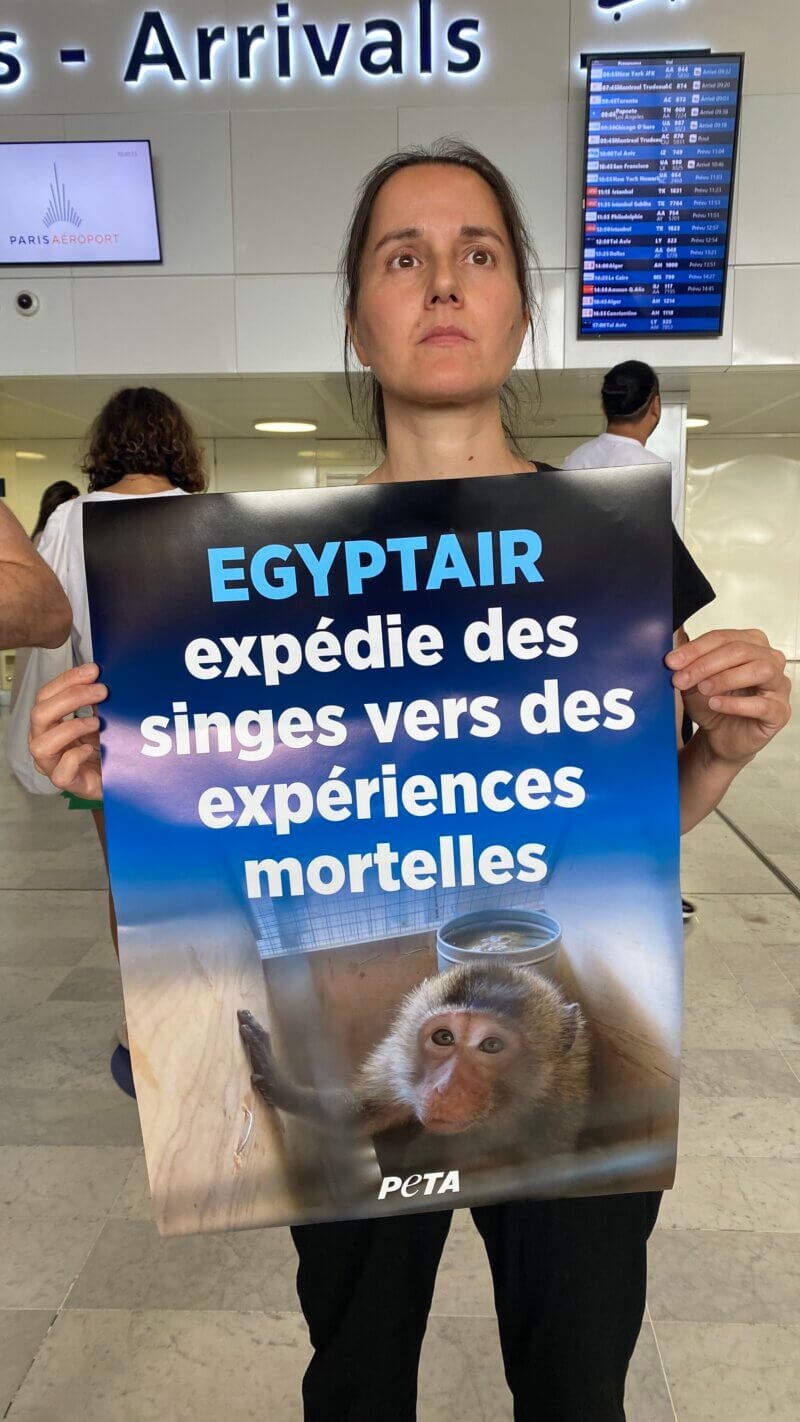 Monkeys that survive these grueling, multi-day journeys in cargo holds and trucks end up maimed and killed in American labs.
The transport of primates for experimental purposes poses a serious, life-threatening risk to public health and causes immense suffering to the animals. These highly social and sensitive individuals are either wild-caught or captive-bred in squalid factory farms, where many die of injuries and disease before they are even crammed into small wooden crates and confined in the dark and dark bunkers. terrifying planes for more than 30 hours.
In laboratories, primates can be mutilated, poisoned, deprived of food and water, forcibly restrained in restraints, infected with painful and deadly diseases, psychologically tormented and killed.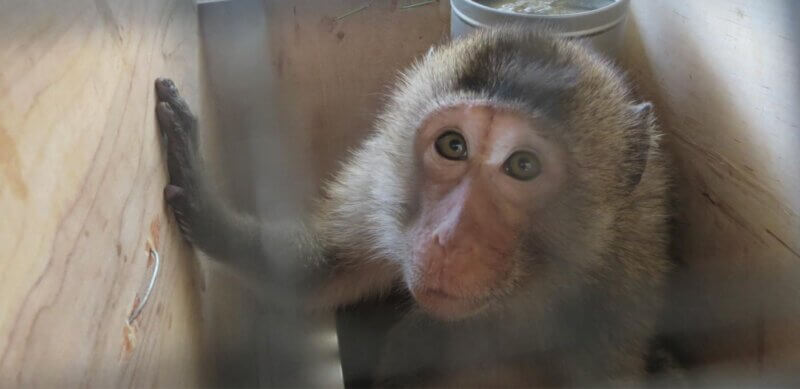 The majority of major airlines no longer transport primates to laboratories. Yet, in just three months, EGYPTAIR is said to have transported more than 4,000 of them.
The monkeys need your help
Thanks to the efforts of PETA entities, other animal welfare organizations and caring people around the world, nearly every major airline in the world has stopped transporting monkeys to labs, including Air France, which has pledged recently
Indeed, a few weeks ago, Air France's announcement sounded like a huge victory for the monkeys! After more than a decade of intense campaigning by PETA, international PETA entities, other animal welfare groups and grassroots activists around the world, Air France has announced that it will end the transport of monkeys to laboratories as soon as its current contracts end.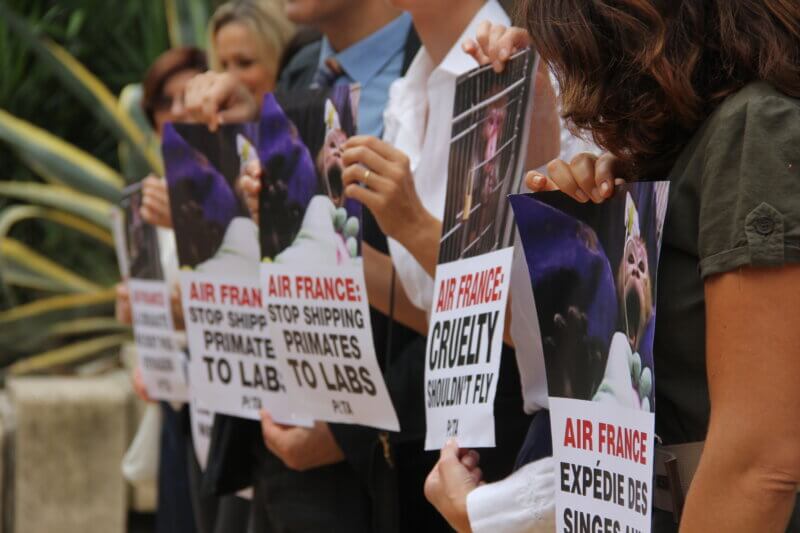 Monkeys will no longer be flown to their death by Air France
Air France is the latest major commercial airline to join the list of forward-thinking airlines that have stopped cramming boxes of terrified monkeys into their cargo bays on their way to death.
In addition to organizing protests around the world, PETA entities have taken the fight to Air France boardrooms and engaged in discussions with Air France executives. When we were left out of the conversation, we disrupted speeches by leaders at conferences and ran bold advertisements, including large billboards at airports. We have worked with celebrities, such as Dr Jane Goodall , James Cromwell, who locked himself in a cage at Los Angeles airport , Hélène de Fougerolles or even Lolita Lempicka who all expressed their concerns to Air France . Actor and YouTube star Grégory Guillotin even joined a protest organized by PETA France on a Paris-Marseille flight.
PETA entities in Europe have gone all out, particularly in France, by organizing countless disturbances and demonstrations in the streets or in front of the company's premises. Our activists disrupted conferences, exhibitions, a flight or even a cocktail party organized by Air France. We had also joined several demonstrations by company employees, where we had found a lot of support.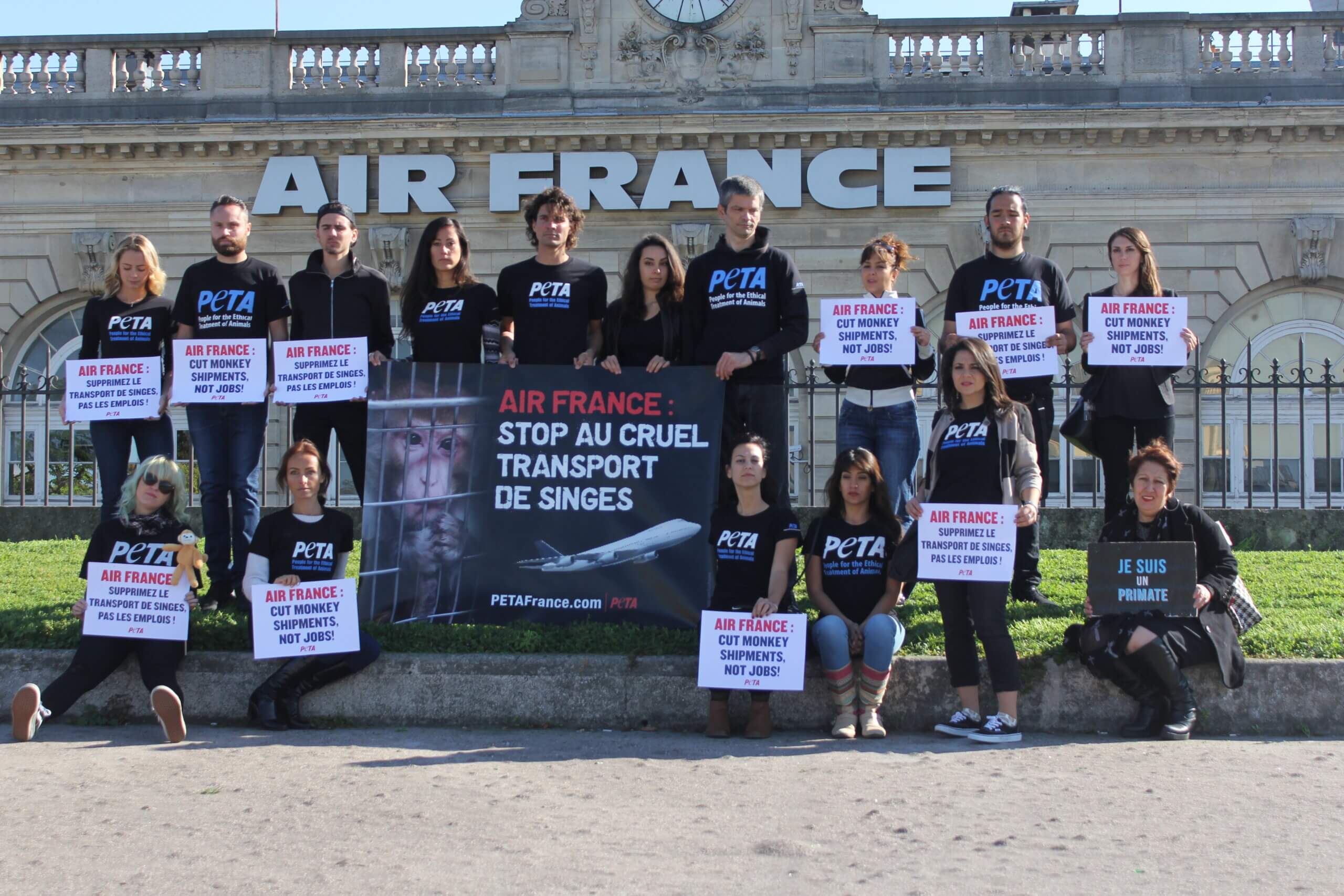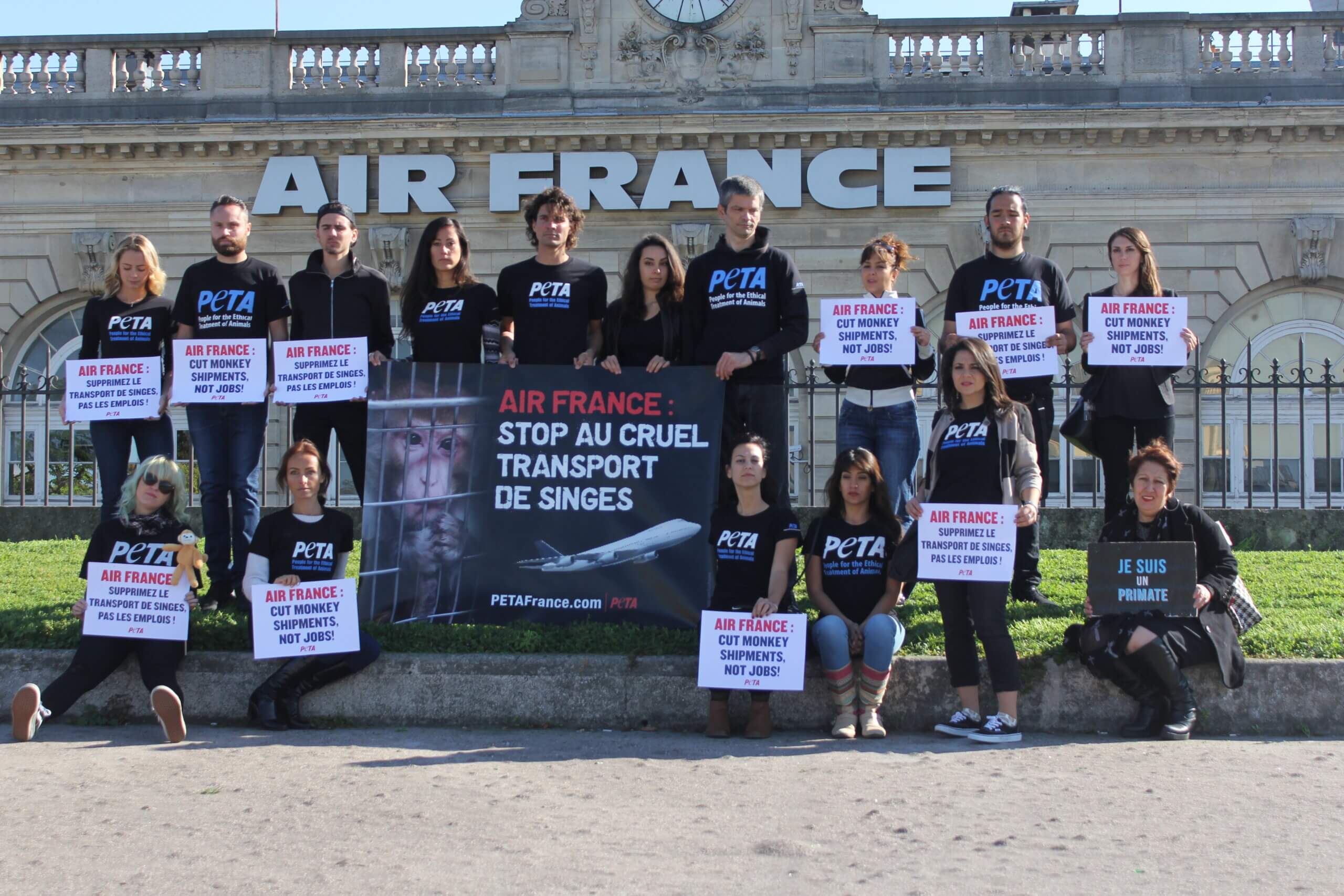 Other animal welfare groups played a major role in this great victory, including our friends at Stop Camarles, One Voice and Action for Primates.
Air France's announcement means more primates will be able to stay in the wild with their families instead of being captured and imprisoned in decrepit farms and terrifying laboratories. This brings us one step closer to stopping the trafficking of monkeys for ineffective experiments altogether, when there are modern, cutting-edge methods like organs on a chip today.
Let's use our voices again to encourage EGYPTAIR to join them: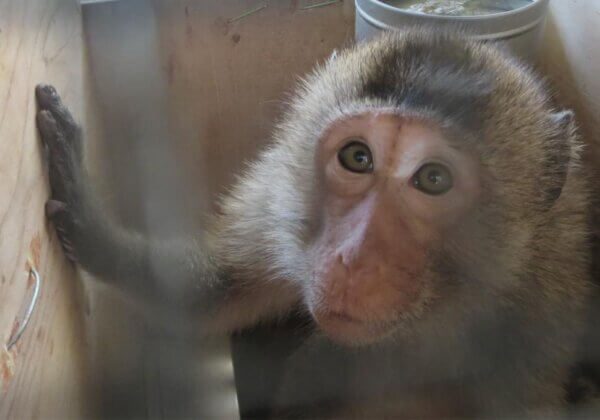 Posted on 2022-07-29 16:28