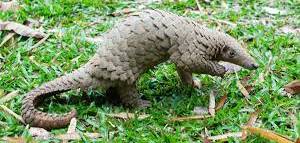 TRAFFIC Asia
|
Posted on 2021-12-30 20:24
Chinese online platforms should consider implementing anti-money laundering (AML) programs 'follow-the-money' approaches to prevent traffickers from profiting from the illegal wildlife trade through of their services and help get hold of the criminal networks that are rampant around the world. They have a very significant negative impact on species and ecosystems all over the globe.
TRAFFIC's long-term online market surveillance has shown that criminals are taking advantage of the Chinese online platform's payment services to sell illegally obtained wildlife products nationally and internationally. However, with the support of Chinese banks and online platforms, anti-money laundering strategies can play a crucial and revolutionary role in making wildlife smuggling much more risky and in identifying them. international criminal networks.
We are happy to see that Tencent has started paying special attention to using the AML approach in the fight against wildlife crime.
However, the awareness and overall skills applied in Chinese financial sectors still need to be improved. In China, investigations and prosecutions still rely mainly on charges of poaching or trafficking. At the same time, financial crimes are mostly neglected and are not fully utilized as a tool to identify and bring to justice those who benefit most from crime related to wildlife.
Linda Chou, Traffic AML project manager, clarified : "To resolve these problems, TRAFFIC is developing recommendations for the implementation of procedures used to combat money laundering. These guidelines are primarily intended for judicial and penal authorities. Traffic is also developing a training module called TOT (Training for Trainer) which will be used by financial institutions. And finally, third-party payment platforms will be developed in collaboration with the Association of Certified Anti-Money Laundering Specialists (ACAMS), an association of specialists in the fight against money laundering ".
Keen to set an example for other online industries, Tencent acknowledged that its mobile payment service, WeChat pay, could very well be used by criminals to launder the proceeds of the illegal wildlife trade. That is why he has partnered with TRAFFIC and the Guangdong Forest Police Bureau to improve the capacity of the AML team to combat this trade.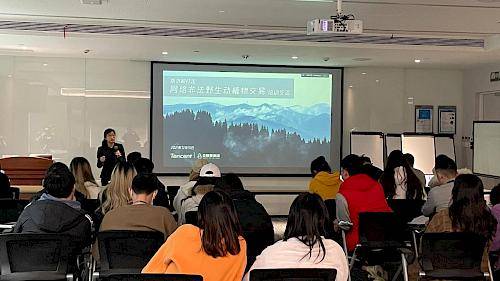 Training Session 15 December 2021 for AML staff Tencent Chengdu Office.
During a recent training session at the Tencent Chengdu office in front of the team in charge of the fight against money laundering as well as the customer service staff dedicated to the management of illicit trafficking cases, TRAFFIC emphasized on relevant laws and regulations, payment methods or criminal transactions used in wildlife and forest-related crime. The organization also wanted to increase the skills of the teams in the identification of species commonly sold online.
Guangdong Province Forestry Police Responded to the Challenge of Greater Suppression of the Illegal Online Wildlife Trade and Fully Accepted the Implementation of the "Follow the Money" Program in Crime Investigation related to wildlife. Police also made suggestions on how to strengthen the collaboration between law enforcement and Tencent to detect domestic navigation on WeChat and monitor suspicious transactions related to inland navigation.
"This is the very first time that Chinese law enforcement authorities have exchanged views with the private sector on combating internal internet browsing in the country through the anti-Internet approach. money laundering. This is a significant step forward and a very positive step in the right direction. TRAFFIC continues to provide the cooperation and communication platform between the Chinese private sector, financial industry and law enforcement agencies to combat wildlife crime networks and, in turn, support conservation of global biodiversity , "said TRAFFIC China Director Ling XU.
The anti-money laundering team wants to extend its work to all environmental crimes and wants to form an external collaboration to improve the exchange of information and resources.
Further information
The anti-money laundering projects of the TRAFFIC China office have been kindly supported by the Bureau of International Narcotics and Law Enforcement (INL), the United States Department of State and the Norwegian International Climate and Forest Initiative (NICFI).
About Tencent:
Tencent is a leading internet and technology company that has developed the versatile mobile application WeChat, providing private instant messaging, social media (WeChat moment) and mobile payment services. First launched in 2011, in 2021, WeChat had 1.26 billion monthly active users in China and abroad.
Tencent for the planet
As a founding member of the Coalition to Stop the trafficking of wildlife online , Tencent, home mobile WeChat, actively discussed cybercrime related to wildlife by launching "Tencent for the Planet" and encouraging users to report information about illegal wildlife trade on the WeChat platform.
In 2019, Tencent received nearly 10,000 reports of illegal wildlife trade from WeChat users. A total of 2,000 WeChat accounts containing wildlife products banned for sale have been warned or closed. With the support of Tencent, the police discovered and dismantled a criminal network. 129 suspects were arrested and 216 pangolins alive, 66 kg of pangolin scales, 20 Tibetan antelope horns and a lot of others. wildlife products were seized, as well as the confiscation of more than 18 million Chinese transaction funds in 2018.
About the Office for International Narcotics and Law Enforcement Affairs (INL):

The INL's mission is to minimize the impact of international crime, such as money laundering and criminal gangs, illegal drugs in the United States, its citizens and partner countries by providing practical foreign assistance. and promoting global cooperation.
About the Norwegian International Climate and Forest Initiative (NICFI):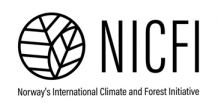 NICFI supports efforts to reduce greenhouse gas emissions from deforestation and forest degradation in developing countries by improving forest and land management in tropical forest countries and reducing land use. pressure on tropical forests by global markets.
Posted on 2021-12-30 20:24