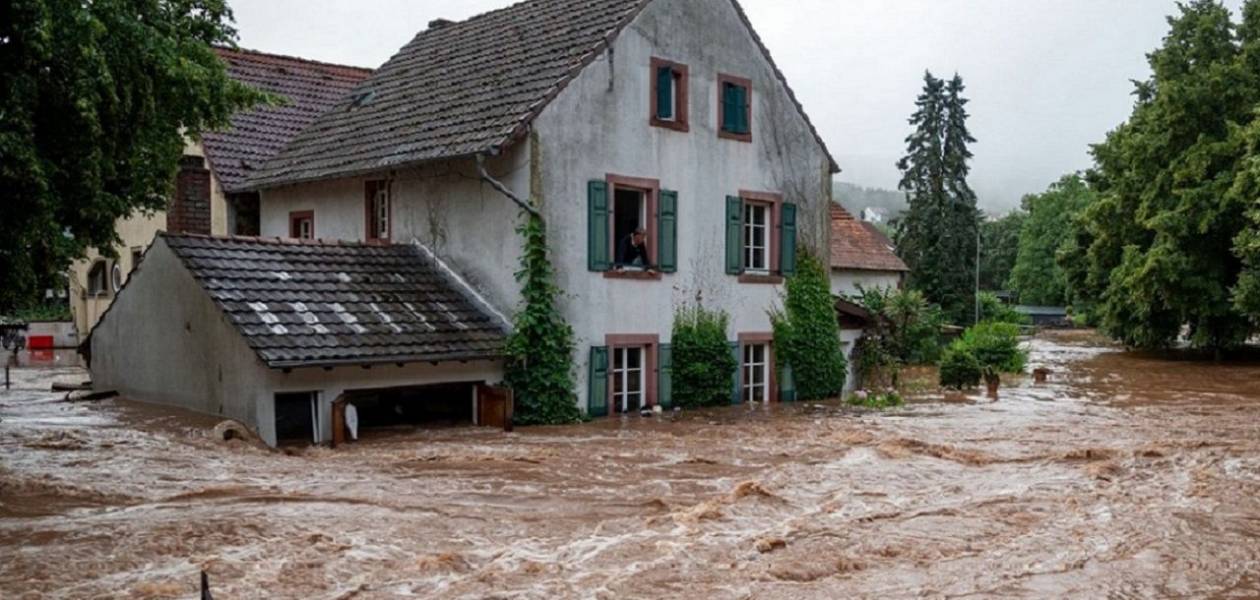 Aftermath of the floods in Germany in 2021
|
Posted on 2021-07-17 21:48
In Germany, two days after the deadly floods of July 14 and 15, the death toll now shows 141 dead and many people are still missing. The Länder of North Rhine-Westphalia and Rhineland-Palatinate are particularly affected . On site, solidarity is organized. The inhabitants are very numerous to answer the calls for donations. Example in Bad Bodendorf, near Bonn, in a center which welcomes homeless victims and collects donations.
This time, it is a small truck filled to the roof with products of all kinds that stops in front of the school transformed into an emergency accommodation center. Alvina, boots on, unloads the goods. "We collected from family and friends and brought donations, " she explains. " There are layers of children's clothing, food for the animals, whatever we were able to collect. . "
"We live in a place that has not been touched, but we feel concerned. For us, it was obvious that we had to provide help."
At the reception of the center, members of the Red Cross are supported by volunteers who have come to lend a hand. Some come from northern Germany, sometimes from further afield to help. Julia, 18, takes note of the needs of the victims. "It breaks your heart to see that people have lost everything, she confides. Everything is gone: their house, their business. Their lives have been shattered. I find it good that so many people are mobilizing. will help quickly overcome this disaster. "
Drinking water reservoirs in Sinzig (Rhineland-Palatinate) 3 kilometers from Bad Bodendorf (Germany) on July 17, 2021. (Sébastien Baer)
To accommodate those who have lost everything, the school classrooms have been divided into small rooms. Manfred, 70, his wife and 14-year-old grandson have been sleeping in one of these rooms for three nights. Manfred says: "There was a lot of water, there is no more road. They evacuated us by loudspeaker: 'Go, go, go.' Impossible to return home, we have no choice. It's hard, but people here are nice. "
Other residents are deprived of running water.
Other residents, less severely affected, were able to stay at home. But deprived of running water, they come to fetch bottles of mineral water. Jessica came by bike with her daughter. She leaves with a pair of boots and gloves to clean her house and garage. "There is no longer a bridge, we can no longer take the car so we have to go on foot or by bike , she testifies. " We have done 2 km, we have no more water, more of electricity, we light up with candles ... We had water from the fire brigade for our toilets and to be able to wash ourselves. It's all hard to imagine when everything is going well, you don't realize. "
The momentum of solidarity is such that the managers of a neighboring building who were collecting furniture stopped their appeal for donations. There was no more room to store the material left for the victims.
Chancellor Angela Merkel will visit the scene of the devastating weather that hit western Germany on Sunday. The head of government, who returned from a visit to the United States, will go to the largely destroyed village of Schuld in Rhineland-Palatinate, local authorities said. The visit will take place "in the afternoon," a spokeswoman for the regional interior ministry told AFP. This live is now over.
The Belgian Prime Minister on the spot. Belgian Head of Government Alexander De Croo and President of the European Commission Ursula von der Leyen will travel to Rochefort in the morning. They must meet with affected residents, members of the emergency services and local officials.
Major damage. These floods are the worst natural disaster in Germany for more than half a century. "Billions of euros are at stake," said Gerd Landsberg, director general of the German Association of Towns and Municipalities. In Belgium, "it could be that these floods are the most catastrophic that our country has ever known," said Prime Minister Alexander De Croo, decreeing Tuesday a day of national mourning.
Deadly landslide. A gaping hole was created in the middle of the town of Erftstadt, near Cologne, Germany, after a landslide. Several people lost their lives. The authorities now fear that the scenario will repeat itself as water continues to accumulate in the fields all around Erftstadt.
Source: France Info.
Posted on 2021-07-17 21:48