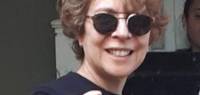 Silvana Andrade
|
Posted on 2021-07-03 12:16
The DV8 World News team is particularly happy to announce its partnership with Ms. Silvana Andrade and her press agency ANDA.
Silvana Andrade is a vegan journalist and animal and environmental rights activist. With a 36-year career in the Brazilian press, she has developed a solid experience as a journalist, production coordinator, editor-in-chief in television networks (Cultura, Record, Manchete, Globo News) as well as in video productions. She has also worked as a journalist for private companies and government agencies developing internal and external communication strategies and creating editorial projects for all media.
She is also the founder and president of ANDA (Animal Rights News Agency); the first journalistic agency of its kind in the world. She lectures in Brazil and abroad: Washington, Los Angeles, Toronto, Luxembourg. She lived in Canada for three years, where she was also committed to the defense of animals and the planet.
And it is with courage and abnegation that she fights on a daily basis against threats and pressures to advance the causes inscribed in the depths of her being.
In her country, she was the initiator of Bill 337/2006, which authorizes the executive to create public veterinary hospitals in the State of São Paulo, police stations specializing in the treatment of cases of ill-treatment. animals, transporting animals by public transport and the Urban Land and Property Tax Reduction (IPTU) for those who give a home to an abandoned animal.
She is currently fighting for the creation of veterinary pharmacies (which sell drugs at low cost, accessible to the public) and free treatment centers for animals. Through a partnership, ANDA suggested and supported the drafting of a bill that guarantees vegan and vegetarian meals at popular prices in the city of São Paulo
Founding member of the Vegan Society in Brazil. He has been volunteering for over 30 years. In October 2019, she launched the international branch of ANDA, a website featuring information about animals and the environment in Brazil.
Journalists, advertisers, lawyers, philosophers, writers, educators, biologists, veterinarians, nutritionists, teachers and other professionals and academics make up its team.
ANDA - Animal Rights News Agency is the first newspaper in the world to fight social violence and environmental destruction based on animal rights. We disseminate in the media the universal values of a new culture, for a new society - more ethical, fairer, more peaceful and concerned with the defense and guarantee of animal rights.
In almost ten years of activity, in its daily commitment to information and animals, ANDA has put animal rights at the center of the media, inaugurating animal journalism as a category in the Brazilian press. With a pioneering spirit, seriousness and courage, ANDA has incorporated into the field of information a worldview that recognizes the inherent value of non-human life, especially non-human animals.
Every month, you can find Silvana Andrade on Facebook and YouTube to talk about animal rights and the defense of the environment.
Posted on 2021-07-03 12:16