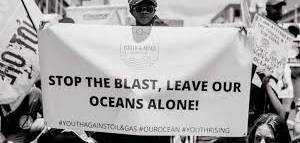 Shell
|
Posted on 2021-12-01 15:44
WWF has added its voice to growing concern and protests over Shell's seismic monitoring due to start tomorrow.
Amid growing protests, an urgent ban has been filed by a few organizations to stop the Shell project and the case will not be heard until 2 p.m. tomorrow.
Meanwhile, WWF expresses concern over the growing threat of incompatible developments along South Africa's rugged coast.
Shell's proposed oil and gas exploration, which has received unfavorable publicity in recent weeks, is the latest threat to the region.
Joining other voices, WWF says it does not believe that the development of an expanded fossil gas industry is necessary for the transition of South Africa's energy mix, and "it certainly is. not aligned with South Africa's recent climate commitments made at COP26 ".
Natural gas remains a fossil fuel emitting emissions that cause climate change. "Right now, we are rapidly depleting the global carbon budget still available that allows us to stay in a world at the critical threshold of 1.5 ° C in accordance with the Paris Agreement. This means that we must do everything in our power to limit emissions from oil and gas. "
According to WWF, in line with its climate commitments, South Africa should instead explore its abundant climate-friendly energy sources (including solar, wind and the potential of green hydrogen gas) to ensure a transition towards the abandonment of fossil fuels.
"In a world where climate variability is endemic and where the loss of nature is rapid and often catastrophic, the wild coast is a unique natural asset. "
The rugged coast is largely rural and underdeveloped and the people who live there depend on biodiversity for their livelihoods, mainly consumption and tourism related activities. It is relevant to see that the Ministry of Forests, Fisheries and the Environment has granted 57 fishing rights to artisanal fishing cooperatives along this coast.
Communities along the Wild Coast are rightly concerned about the promises that are being made when it is not clear who will be the true beneficiaries of these proposed developments.
Too often, distant shareholders have little knowledge or interest in the inevitable consequences of incompatible development, and some will come at the expense of local people and nature. This coastline has some of the largest concentrations of marine mammals in the world, including humpback whales and dolphins. It is also home to dozens of endemic species, a host of marine and coastal habitats and pristine estuaries. It is also part of a unique transition zone with elements of subtropical and warm temperate systems.
"The sardine race that can be seen along this coast - sometimes called 'the greatest shoal on earth' - is unmatched in scale and spectacle, and almost certainly worthy of World Heritage status. "
Although the current exploration for gas and oil has attracted a lot of attention, there are also other terrestrial environmental threats in this region, including a coastal highway project, a "smart city" project and the dam. of the Mzimvubu River, according to WWF.
In a region like the rugged coast of the Eastern Cape, which has high levels of poverty but is rich in biodiversity, WWF finds the prospect of incompatible developments very worrying and calls for fully consultative and collaborative processes.
Shell's planned seismic surveys will begin before the end of the humpback whale migration season and during the height of the turtle hatching season.
Endangered turtle hatchlings will be swept through the seismic survey area without being able to avoid blasting as they are passively transported in the Agulhas Rapid Current from the nesting areas of the iSimangaliso MPA.
Oil and gas companies use seismic seabed exploration processes that generate the loudest sounds in the ocean that humans can make, excluding those produced by explosives. Seismic testing involves blasting the seabed with high powered air cannons (a kind of loud horn) every 10 seconds and measuring echoes with long tubes to map offshore oil and gas reserves.
Conservationists are armed and are trying to beat the clock to prevent Shell from continuing this operation as the countdown begins for its seismic survey off the east coast of South Africa.
Young people are deeply concerned about Shell's upcoming seismic surveys scheduled to take place on the wild coast, which is part of the Transkei exploration area under exploration right 12/3/252 between Port St Johns and Morgans Bay in Eastern Cape.
It is increasingly evident that the noise of seismic explorations carried out to locate offshore oil and gas fields results in negative environmental impacts that disrupt, injure and kill marine life.
Harmful effects can include tissue and hearing damage, interference with sounds used to detect prey or avoid predators, and changes in behavior (such as the displacement of certain species from their foraging and breeding grounds). These harmful effects are in addition to the existing acoustic pollution of the oceans (for example, noise from navigation and the use of sonar).
Seismic surveys are expected to begin Wednesday and continue for five months. There is evidence that seismic research conducted by a single vessel can have sound impacts up to 1000 km.
Shell Exploration commissioned Shearwater GeoServices to conduct 3D seismic surveys in this area, which involves blasting the seabed with compressed air guns that hit sound frequencies of up to 200 decibels every 10 seconds for 24 hours to detect oil and gas.
Shell has announced plans to begin seismic surveys along the rugged Eastern Cape coast, an area renowned for its high marine biodiversity, in just under a week.
Amazon Warrior, the study vessel that will conduct seismic surveys along the wild coast for Shell, has left Cape Town and is off Port Alfred, accompanied by a support vessel, Ocean Fortune, and d 'a guard vessel, the Astra G.
The youth of Durban handed over a memorandum of understanding to the Mineral Resources Ministry last week. Young people from Youth4MPAs, African Youth Summit, Ocean Stewards, Youth Planet and others took to the streets to show their stand against blasting the oceans.
Merrisa Naidoo, Youth Coordinator at WILDOCEANS, said: "Developing countries, especially in Africa, have fallen victim to oil and gas giants, leaving the environment degraded, local populations at war and with little or no help. resources to support themselves. Shell has such a history in the Niger Delta. In Africa, the exploration of mineral resources has always been about the exploitation of our environment and our populations.
"We are youth4MPAs, a youth-led movement in South Africa that includes over 378 ocean advocates and ambassadors in South Africa and the African continent. We aim to promote the protection and conservation of South African oceans, raise awareness of their importance and foster the participation of young people in crucial decision-making involving the ocean. We envision a sustainable future where marine life and society benefit from a healthy ocean ".
Youth for MPAs strongly supports many environmental activist groups, NGOs and concerned citizens to oppose the nefarious investigations and related activities planned for the Wild Coast by Shell.
"For the following reasons, we say #ToHellWithShell".
Liziwe McDaid, Strategic Head of Green Connections, said: "Internationally, the writing is on the wall; Oil and gas projects are simply not worth the risk. South Africa must protect its oceans - which are held in confidence by the state, on behalf of all citizens, including future generations - to ensure that the livelihoods of coastal communities are maintained and that we are all still able to benefit from it and benefit from it. The Green Connection hopes politicians take notice and stop supporting fossil fuel extraction projects. This is the road to disaster. In addition, we do not believe that large amounts of gas are needed to supplement the national electricity grid, especially since renewable energies are a recognized reliable and profitable source of energy. "
Dr Jean Harris from WILDOCEANS said: "It is of great concern that we are still exploring more soils for fossil fuels as we have just made a commitment to significantly reduce our emissions this month at COP 26. 'South Africa should invest in green energy solutions and not undertake unnecessary seismic activities which result in immediate negative impacts on ecosystems and marine species and which have long term climate implications due to the continued dependence oil and gas. "
Minister Barbara Creecy recently confirmed South Africa's commitment to the Paris Climate Agreement at COP 26 and, the same week, said South Africa was playing its part in making COP26 a successful conference because the world is watching all of our actions and it is important that we do our best to meet the expectations of our people.
In flagrant contradiction to this statement and a major loophole, the South African government has extended Shell's oil and gas exploration license for an additional 2 years.
Posted on 2021-12-01 15:44