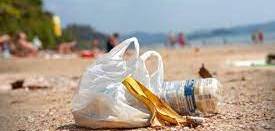 Reuse of plastic.
|
Posted on 2021-12-26 11:58
With the pressure of millions of people around the world, governments are finally beginning to recognize that the only way to face the crisis of plastic pollution is to move to a system based on reuse. Slowly, we have seen the business models of reuse and recharge progress in the world, but it is time for us to act quickly to expand these models to more industrial and local community, especially through policies and laws.
Globally, we have the possibility of negotiating a global treaty binding on plastic and that's what we need to governments and large companies act now to significantly reduce their plastic footprint switch to reuse and recharge. The good news is that recently we have seen some significant changes and amendments to reuse globally that are worth highlighting:
Set standards
In November, Austria was the first European country to implement binding reuse targets and binding in its Law on waste management by imposing a beverage recycling quota of 25% of by 2025. This law requires specific beverage categories to provide a minimum quota of reusable packaging ranging from 10% to 15%. This means that supermarkets are required to provide at least 15% beer and water in reusable packaging, and a 10% reuse packaging quota for soft drinks, juices and milk.
Greenpeace Austria organized a demonstration in February 2021 with 100,000 plastic bottles - compressed into bales forming a mountain - on the iconic St. Stephen's Cathedral Square in downtown Vienna, to raise awareness of environmental impacts harmful single-use bottles.
Until 25 years ago, Austria had a reusable drinks rate of about 80%, and with the transition to plastic bottles disposable, Austria now has a low rate 19% reuse.
Reuse on the rise
France already has a framework law on re-packaging , which requires that 10% of packaging placed on the market are reusable by 2027 and recently introduced a decree 3R (Reduce, Reuse & Recycling) .The latter sets reduction and reuse targets until 2025, stressing that 50% of the reduction in single-use plastic packaging should be achieved through reuse. It should also be noted that France has allocated an impressive € 40 million for reuse investments for 2021-2022 as part of its circular economy fund.
Its near neighbor, Portugal has amended its law which states that by 2030, 30% of all packaging placed on the market, regardless of their material must be reusable. Similarly, Romania has included an annual increase of 5% reusable packaging until 2025 (reaching a minimum of 25% by 2025) in its prescription policy. For its part, Spain has drafted a decree National, which would mark a big step forward in outlining several reuse proposals; one of them being the beverage reuse quotas in the hospitality sector (HORECA) for water, beer, juices and soft drinks, as well as a general target for the reuse of beverage packaging for home consumption. In particular, the Spanish regions of Navarre and the Balearic Islands have progressive laws on reusable beverage packaging since 2018.
Greenpeace activists organize a plastic spill at a bottling plant in Austria asking the Coka Cola brand to switch to reusable bottles instead of single use. Banner says "Stop the plastic flood"
Southern countries lead the way
The countries of the South are no strangers to the principles of reuse, and its implementation can be accelerated by policies encouraging their adoption while imposing a reduction in the production and use of plastic. However, it is essential that reuse systems are designed taking into account the local context, cost and accessibility for low-income communities.
Chile is the most advanced country in the Americas. He presented a bill on the regulation of plastic in August 2021. It promotes and encourages the sale of reusable beverage containers; suppliers must offer reusable bottles and must take back returnable bottles. In addition, after 3 years of promulgation of the said law, at least 30% of the bottles on sale in supermarkets must be consigned for reuse.
In India, the government announced that the plates, cups, cutlery (and other plastic items unnecessary single use) will be banned from 1 June 2022. Although this prohibition is indeed necessary, we must not forget that many countries of the South have yet to reuse based on traditional systems that do not depend on single-use plastic first, as the system Dabbawala India. The integration of these reuse-based systems through policies is far from visible in the legislative sphere. In addition to policies, countries like Indonesia have many successful companies inventing revolutionary processes that redefine convenience refills through digital applications such as KoinPack, Qyos by Algramo and other initiatives.
What then?
While all of this is a step in the right direction, time is running out and we need to encourage more governments to prioritize reuse and recharging alongside plastic reduction in their policies globally. The Ellen MacArthur Foundation recently released its annual progress report, a report that monitors the plastic reduction commitments by the consumer goods sector, where the foundation states that "there a disturbing lack of ambition and action on reuse. "
The reduction of this reuse many environmental and economic benefits, which have the potential to contribute to the objectives of circular economy, as highlighted in the report Realizing Reuse released earlier this year. In fact, increasing reuse in the food and beverage sector by 50% by 2030 is expected to help lower the use of 27.1 million tonnes of resources.
In order to tackle the plastic crisis and climate change, we need governments to come together and implement binding policies to develop systems based on reuse. In reality, we have a tremendous opportunity to move to a revolution of reuse through a binding global treaty on plastics which establishes a framework for countries to reduce their production and consumption of plastic and head towards a plastic-free future. And these laws must include an ambitious notion of reuse and recharging.
Posted on 2021-12-26 11:58