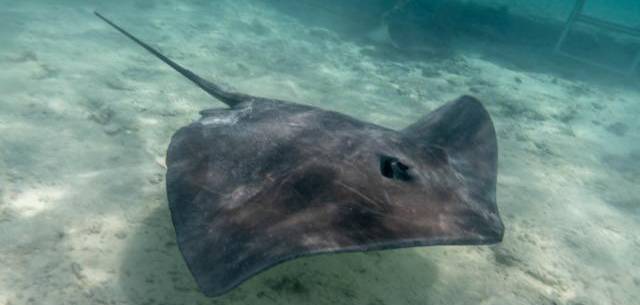 Rays and sharks in Australia.
|
Posted on 2021-07-14 17:15
Sharks and rays in southern Australia face increasing threats as warmer waters push more tropical species south and habitats change, exacerbating threats to critically endangered species. extinction. A study to identify risks to some 132 different species found in waters from southwestern Western Australia to New South Wales has been published in the journal Fish and Fisheries. It aims to give authorities a method to prepare for threats of overfishing and climate change.
A gray nurse shark, one of the shark species in Australian waters that is already endangered before the impacts of climate change are taken into account. "This is the first time that we have put them together as a risk assessment," said Terence Walker, researcher at Melbourne and Monash universities and lead author of the article. "The challenges for fisheries managers are only growing. "While stricter controls on commercial fishing since the early 2000s had stopped the decline of many species of sharks, rays and chimeras such as fish elephants, these gains could be dwindling as more of "Tropical species such as tiger sharks and bull sharks are extending their range southwards," the researchers said. The East Australian Current, which moves tropical waters southward, is strengthening and making the Tasman Sea one of the hotspots in the world that warms as sea surface temperatures rise to around four times the global pace. The Leeuwin Current, which flows south along the northwest coast, is also strengthening, but not as rapidly as its eastern counterpart. " Global warming is going to literally push the sharks and rays of the south into a corner because they can't go any further than south and west," said Leonardo Guida, shark scientist at the Australian Marine Conservation Society and co-author of the article. "Everything indicates that there is an urgent need to quickly adjust the functioning of the fisheries".
The document also revealed that at current fishing levels, up to six species already assessed as endangered, including the school shark and maugean ray, will see their recovery hampered by rivals migrating south. . Richard Reina, a marine ecologist at Monash University and another of the authors of the article, said the waters of South Australia are changing faster than other parts of the country and that it is also the most fished by commercial enterprises. Although fisheries have gone to great lengths to monitor fish stocks and modify approved catches accordingly, they were already struggling to adapt to the " southward movement of so many species ... all over the world. world is moving south, " Prof. Reina said.
The animal is a species at risk as the waters warm and northern species move through them.
Professor Reina also made a point of recalling that "sharks and rays which reproduce or feed in shallow waters will have difficulty establishing themselves if they are pushed from the [continental] shelf to deeper waters" . Dr Guida said it was vital for Australia and other countries to reduce greenhouse gas emissions, which caused the warmer climate. Meanwhile, fisheries managers should start using the new methods to assess risk. In some cases this will involve increasing areas where fishing is restricted or prohibited to give species at risk a chance of survival. Many sharks in particular are found at the top of the sea. food chains, maintaining stable ocean ecosystems. "If you take care of sharks and rays, you take care of our broader food chains," says Dr. Guida. "This affects the fish that ends up on vo be table - if he can. "
Posted on 2021-07-14 17:15