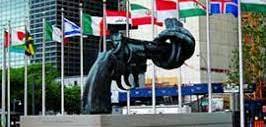 Countries that are not meeting their climate targets.
|
Posted on 2021-08-06 10:15
China is the country with the highest CO² emissions in the world, while India ranks third
China and India have missed the deadline set by the UN to submit new plans to reduce their greenhouse gas emissions on time. The world body cannot include their pledges in a report to governments at this year's global climate summit, officials said on Saturday. The two most populous countries in the world are among dozens of countries that have not provided an update on their greenhouse gas emission reduction targets to the United Nations climate change agency. here July 31.
The United States, which presented its new target in April, is the world's second largest emitter. Patricia Espinosa, climate officer at the UN, welcomed the fact that 110 signatories of the United Nations Framework Convention on Climate Change have met the deadline, initially scheduled for the end of 2020 but which was postponed due to the pandemic . She, however, said it was "far from satisfactory" that only 58% of nations submitted their new targets on time. Saudi Arabia South Africa, Syria and 82 other countries also failed to update their "Nationally Determined Contributions" (NDCs) in time to include them in a report that Ms. Espinosa's office preparing for the United Nations climate change conference in November.
Madame Espinosa noted that a previous report found that countries were doing too little to meet the goal of keeping global warming below 2 degrees Celsius (3.6 Fahrenheit) by the turn of the century compared to l preindustrial era; not to mention the more ambitious goal of capping warming at 1.5 degrees C (2.7 degrees F). "The recent extreme heat waves, droughts and floods around the world are a terrible warning that there is still much to be done, and much more quickly, to change our current course," Ms. Espinosa said. "This can only be done through more ambitious NDTs. "
Under the 2015 Paris climate agreement, countries set their own emission reduction targets, but are required to be transparent about them and jointly increase their targets over time to ensure that global warming remains at agreed acceptable levels. China announced last year that it wants its emissions of carbon dioxide - the main greenhouse gas - to peak before 2030 and then achieve carbon neutrality by 2060. This target has not been reached. still officially included in the UN report, however, meaning it cannot yet count towards the global effort.
Earlier this month, the chairman of the Glasgow-scheduled COP 26 climate summit, Alok Sharma, met with environment ministers from more than 50 countries, including the United States and China. Speaking to reporters after the meeting - the first face-to-face meeting of its kind since the start of the pandemic - Sharma said attendees agreed that the 1.5 degree C target must remain "within reach " . "By COP26, we must, and I promise you we will, make every day count," he said.
In terms of deforestation, now we have learned that Brazil, this time, will not meet its reduction target.
Brazil will not achieve its goal of reducing deforestation in the Amazon by 10% over the reference period August 2020-July 2021, Vice-President Hamilton Mourao admitted on Monday, August 2. "We're probably not going to meet our 10% reduction target. I think it will be around 4 to 5% more. It is a very weak reduction, ridiculous, but it is better than nothing, declared to the press this general of the reserve.
According to the data collected covering the period from August 2019 to July 2020, 10,851 km2 of forest were destroyed in the Amazon. This represents an increase of 7% from the previous cycle. Despite the deployment of the army to try to crack down on illegal deforestation, the situation has continued to deteriorate in recent months. Indeed, the deforested area in the Amazon increased by 17% in the first half of 2021 compared to 2020. In June, deforestation broke a fourth consecutive monthly record with no less than 1,062 km2 deforested, a worrying figure for this month which marks the start of the dry season.
Vice-President Mourao, however, underlined the 27% drop in the number of fires identified by the INPE in July compared to the same month last year. According to him, this reduction is due to "measures put in place" by the government, which is why he recommends "to continue to deploy the army" to also fight against these fires.
But Cristiane Mazzetti, from the Brazilian branch of Greenpeace, was very worried about this situation. According to her, "the worst is yet to come. Not only will the next few months be very dry in the Amazon, but (government) environmental monitoring agencies have been weakened, " including by budget cuts, " and one of Parliament's priorities is to pass laws that could cause further harm. more destruction of the environment ". And it is very difficult not to give the slightest credit to President Jair Bolsonaro when he declares that he is committed to the international community to eliminate illegal deforestation in Brazil by 2030, especially since he has shown no concrete measure enabling it to obtain such a result.
Posted on 2021-08-06 10:15