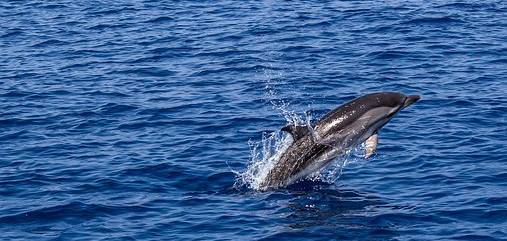 Operation "Bloody Fjord"
|
Posted on 2022-08-02 10:13
Barely 10 months after the most notorious cetacean hunt in documented human history when 1428 Atlantic white sided dolphins were driven 45km for over 5 hours by speed boats and jet-skis into the shallow waters of the same bay at Skálabotnur - At the very same bay there has been the second largest hunt of bottlenose dolphins in Faroese recorded history.
8 Sea Shepherd crew from Denmark, Norway, Northern Ireland, England, Austria, France, and the Faroe Islands (plus a media team from France) have photographed, filmed, and checked the count of bottlenose dolphins which stands at 98 adults with numbers carved into them, 1 calf un-numbered, and at least 1 foetus in a heavily pregnant female.
At 99 killed, this makes this the largest hunt of bottlenose dolphins in over 120 years with the only hunt of this species to surpass this grim total, by just 1 more soul, was a hunt of 100 Bottlenose dolphins in the year 1898 according to Faroese government statistics.
This dolphin hunt, and indeed the killing of all pilot whales and dolphins in the Faroe Islands, is simply disgraceful and will rightly cause further national and international outrage. Once again, some of the animals show cut marks from boat propellors where boats ran into, or over them.
Sea Shepherd has only just exposed the Faroese grindadrap training course as a sham. One of our Sea Shepherd crew managed to attend the public course and receive the formal certification to kill pilot whales and dolphins – even though our volunteer couldn't speak or understand a word of Faroese and never even had the opportunity to touch a single killing tool (spinal lance or knife).
The course can be, and has been since year 2015, attended by anyone in the Faroe Islands over the age of 16 and is an entirely theoretical lecture lasting only one hour. Anyone can turn up, take a seat in the back row, fall asleep for an hour, and still manage to get the permission to be a certified small cetacean killer at any grindadrap or dolphin hunt around the Faroe Islands. Read more on this at: https://www.seashepherd.org.uk/news-and-commentary/news/sea-shepherd-exposes-the-faroese-grindadrap-training-course-to-be-nothing-but-a-sham.html
Background information:
Sea Shepherd was first activist group in the Faroes in 1983, with further direct-action campaigns in 1985, 1986, 2000, 2011, 2014 and 2015. Then due to vessel restrictions directed at Sea Shepherd as well as new Faroese legislation preventing interventions from any activists against the grindadrap - Sea Shepherd UK launched 'Operation Bloody Fjords' with land-based crew being sent to the islands every year since 2017 to investigate, document and expose the barbaric hunts to the world to bring pressure on the Faroese to end the grindadráp.
Sea Shepherd's volunteer crew over the years 2017 to 2022 (to date 29th July 2022) have documented a shocking 50 grindadrap hunts - including 14 where Atlantic White Sided dolphins, Northern Bottlenose Whales or Bottlenose Dolphins were killed.
Read more about the issue at: https://www.seashepherd.org.uk/campaigns/operation-bloody-fjords/
Please help support Sea Shepherd UK's campaigns in the Faroe Islands by donating to our charity at: https://www.seashepherd.org.uk/support-us/donate-monthly.html
Posted on 2022-08-02 10:13