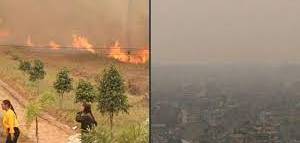 Nepal
|
Posted on 2021-04-07 15:47
Climate change seems to be having one of its effects on Nepal. Indeed, forests across the country have been ravaged by flames since last November. 2,700 fires were counted, 14 times more than the same period last year. The country's government indicates that this is the worst season recorded for at least ten years. So much so that the lQAir monitoring site on Tuesday classified the air quality of Kathmandu, the capital of Nepal, as the worst in the world.
The thick smoke that covered the city caused the closure of schools for several days due to the dangerous air and numerous disruptions to air traffic.
According to Uddav Prasad Rijal, spokesperson for the National Authority for Disaster Risk Reduction and Management " the number of forest fires reported this season was the highest since the creation of the registers listing them nine years ago " . And to add: "the winter season between November and February was drier than usual, which increased the risk".
According to a climate expert, Madhukar Upadhya, there is no doubt that climate change is the cause of this upsurge in fires across the country. And he is hardly optimistic for the years to come. He said on this subject: "It is inevitable that there will be more fires, because the Nepalese winters are getting drier due to climate change. "
Posted on 2021-04-07 15:47