Oil spill at Huntington Beach.
|
Posted on 2021-10-06 15:46
An oil slick first reported on October 2, 2021, has released hundreds of thousands of liters of crude oil into southern California coastal waters. The source is said to be a leak in an underwater pipeline connected to an oil drilling platform located about 30 km offshore. Some argue the possibility that this environmental disaster was caused by the anchor of a boat.
The oil ran aground at Huntington Beach and Newport Beach and in the coastal marshes. Orange County has requested a federal disaster declaration.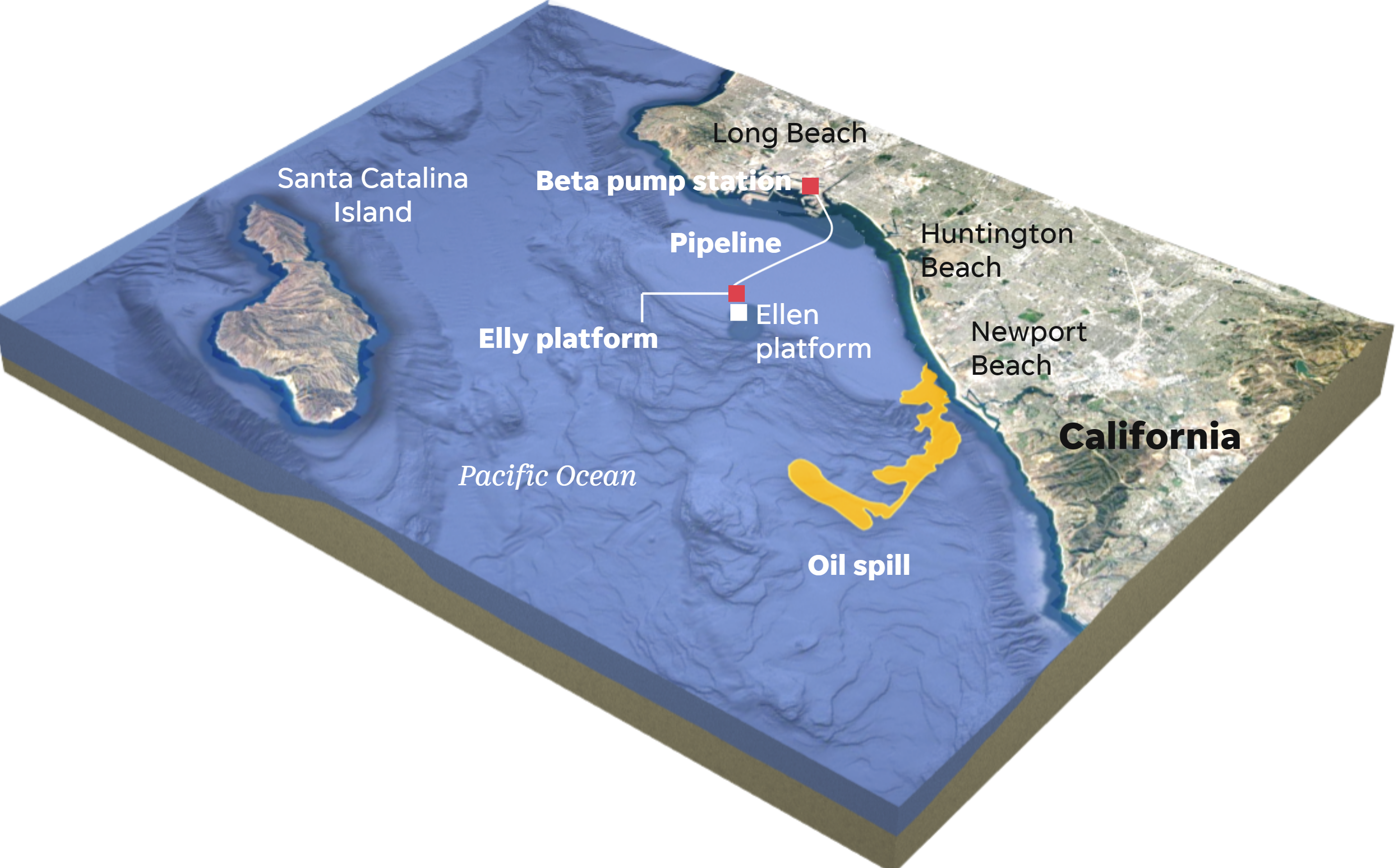 Charles Lester, director of the Ocean and Coastal Policy Center at the Institute of Marine Sciences at the University of California at Santa Barbara, explains the magnitude of the spill.
How large is this spill and what is the area of coastline affected?
Reports estimate that around 480,000 liters of oil spilled from a ruptured submarine pipeline, potentially affecting 40 km of coastline in Orange County. As a precaution, the state of California has shut down fishing companies along the coast stretching 10 miles from the shore.
This stretch of coastline includes many extremely important marine and coastal resources, from the Bolsa Chica wetland complex to the Dana Point State Marine Conservation Area.
Wetlands provide critical wildlife habitat and are nurseries for many marine species. Those in California are part of a network of wetlands along the Pacific coast that is home to a multitude of sensitive local and migratory bird species. The rocky shores and tidal pools along the Newport and Laguna coasts are also critically important habitat areas for birds, marine mammals, and other wildlife.
Since the start of Spanish colonization in the mid-1500s, California has lost 90% or more of its coastal wetlands. This makes the remaining ones, like the Talbert Marsh near the mouth of the Santa Ana River, even more important.
Orange County also has dozens of popular beaches that millions of residents and visitors use. They generate billions of dollars in revenue for the state's coastal economy every year.
How does this event compare to other large-scale oil spills in California?
Oil development at sea always carries a certain risk of oil leakage. California's ocean waters have experienced multiple overflows over the past 50 years.
The most significant was the Santa Barbara offshore oil eruption in 1969, which sent over 13 million liters of oil to local beaches. It was a major disaster that helped start the modern environmental movement.
Other significant spills since then include pollution from the American Trader tanker off the coast of Orange County in 1990, which released 1,500,000 liters, and the 2015 Refugio pipeline leak in Santa Barbara County, which released 465,000 liters of crude into the ocean.
Offshore oil production poses pollution risks from both platform drilling activities and from facilities that transport oil from offshore to refineries and storage facilities on land, including sub-pipelines. marine and underground. The vast array of oil and gas infrastructure along the California coast requires constant monitoring and maintenance to prevent accidents like this one.
What kind of technology does the state have to contain and clean the oil?
Time is running out for intervention in the event of an oil spill. Responders deploy physical barriers such as booms and use skimmer boats to contain and clean up oil floating on the ocean surface. They are also building sand dams in front of wetlands to protect sensitive areas against the influx of tidal oil.
Other cleaning technologies include the use of chemical and biological agents to help break down and disperse the oil in the water column, and possibly burn the oil to help remove it from the water. . Aerial reconnaissance will help the Coast Guard and state agencies track the location and extent of the spill.
What are the possible impacts of this oil spill that concern you the most?
Of particular concern to me is the extremely toxic effects of oil on marine and coastal wildlife, including seabirds and other species that inhabit our coastal wetlands. Once the oil gets into the marshes and sensitive shorelines, it becomes very difficult to clean up.
I am also concerned about the long-term repercussions on sensitive environments such as wetlands and rocky terrain. Oil spills have a significant impact on our coastal economies, ranging from the fishing industry and recreation to beach closures.
Offshore drilling is very unpopular in California. How long do you think it will go on?
I expect many Californians to see this new bout of pollution as further proof that the state and nation should make a swift transition to alternative energy sources, such as solar power and electricity. offshore wind. The combustion of petroleum and other fossil fuels is one of the main sources of CO2 emissions that warm the planet and change its climate.
Californians are systematically opposed to the development of new offshore oil fields : in a recent poll, 72% opposed it. This reflects concerns about oil spills and the effects on fishing, multiple ocean-related activities as well as the impacts of climate change.
Governor Gavin Newsom has ordered that by 2035 all new cars and passenger trucks sold in California be zero-emission vehicles. He also asked the California Air Resources Board to analyze how to phase out oil extraction activity statewide by 2045.
A lot of Californians would like this to happen much sooner than that. I'm sure this latest disaster will only intensify the pressure to end oil production in California, on land and at sea.
This oil spill is the latest in a series of significant environmental disasters in California:
1969: On January 28, a Union Oil drilling platform off Santa Barbara suffered an eruption - an explosion caused by an uncontrolled release of oil or gas - that spilled 16 million liters of crude oil.
1971: On January 19, two tankers collided in dense fog in San Francisco Bay, spilling 3 million liters of bunker fuel , a type of fuel oil used on ships.
1990: On February 7, the tanker American Trader dumped more than 1.5 million liters of crude oil near Hu ntington Beach, killing approximately 3,400 birds.
2007: On November 7, the container ship Cosco Busan struck the Bay Bridge and dumped 220,000 liters of bunker fuel into San Francisco Bay.
2015: On May 19, a pipeline ruptured and spilled 380,000 liters of crude oil into the ocean at Refugio State Beach in Santa Barbara County.
Sources:
Charles Lester

- Director, Ocean and Coastal Policy Center, Marine Science Institute, University of California at Santa Barbara
2 - USA Today.
Posted on 2021-10-06 15:46