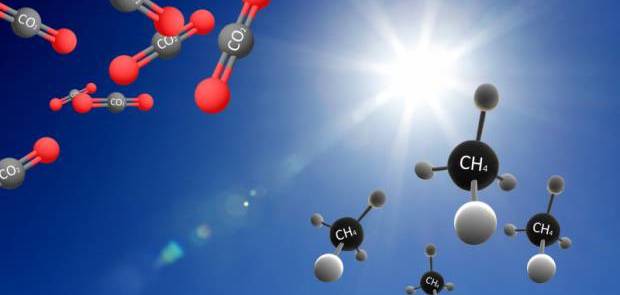 Methane, a very polluting gas.
|
Posted on 2021-09-19 11:50
The United States and the European Union should announce a goal of reducing emissions of methane, a greenhouse gas much more powerful than carbon dioxide, by one-third by 2030 and push other countries to join them.
According to Dr Pep Canadell, chief researcher at the Climate Science Center of the Commonwealth Scientific and Industrial Research Organization (CSIRO): Australian government body for scientific research. It was founded in 1916 under the original title of Advisory Council. of Science and Industry.), "Methane is the second largest source of global warming after carbon dioxide and has caused about a quarter of the warming the world already experiences from greenhouse gas emissions. "
Still according to Mr Cabadell, "as Europe and the United States switch from coal to natural gas - which is largely methane - for energy production, emissions have increased rapidly"
Methane, or CH4 (a molecule of one carbon atom coupled to four hydrogen atoms), is a gas naturally present in the atmosphere. It is emitted, in particular, by decaying plants. But human activities also lead to an increase in its concentration in the atmosphere. However, methane is a powerful greenhouse gas, which contributes both directly and indirectly to global warming. Methane occurs naturally on Earth. It is found in natural regions with little or no oxygen, such as marshes. It is produced by living organisms (plants, animals, etc.) under the effect of fermentation or digestion. Colorless and odorless, methane constitutes 90% of natural gas, which is the world's third largest energy resource used after petroleum and coal. Methane is the only hydrocarbon that can be obtained by a natural process. It represents a risk for the environment, because methane is one of the main greenhouse gases.
The Intergovernmental Panel on Climate Change (IPCC) thus estimates that the impact of a unit mass of methane on the climate is equivalent to 84 times that of CO2 over a period of 20 years. Over a period of 100 years, the impact of methane remains 28 times greater than that of CO2. These characteristics make it a good candidate for effectively reducing our greenhouse gas emissions.
Unfortunately, methane emissions from the oil and gas sectors have increased this year, satellite images produced by the consultancy firm Kayrros show, even as CO2 emissions declined under the effect of the economic crisis. The main countries affected by these leaks are the United States, Russia, Algeria, Turkmenistan, Iran and Iraq.
When burned for energy, methane produces about a third of the amount of carbon dioxide that coal produces to create the same amount of electricity.
The US and EU have agreed on a goal of reducing methane emissions by about a third of 2020 levels by the end of this decade and will call on other major economies to do so. join via a global commitment on methane, according to draft documents viewed by Reuters.
Bryce Kelly, associate professor of environmental science specializing in measuring greenhouse gas emissions at the University of NSW, said last year saw the biggest increase in methane emissions since 1984. The cause is not yet fully understood, but it is believed to include increased agriculture and gas consumption. Reducing methane emissions by a significant amount is technically feasible, but would take a significant change in economic and industrial practices, he said.
"We have to be extremely ambitious to reduce methane. This announcement [from the US and the EU] is fantastic news. "
The pact comes as the world prepares for the COP26 climate negotiations in Glasgow, where the United Nations will push for leaders to commit to future emission reduction targets that would set the world apart. on track to keep warming as close to 1.5 degrees as possible, as agreed during negotiations in Paris in 2015. The UN was due to issue an assessment of the 2030 targets, known as Nationally Determined Contributions (NDC), showing that they are still mostly insufficient and in some cases getting worse.
Posted on 2021-09-19 11:50