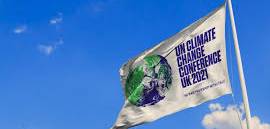 China and COP 26
|
Posted on 2021-11-02 19:23
The contracdictions coming from China are not lacking at the moment.
As the climate emergency approaches and the leaders of the world's nations come together to debate it in what many call the last-ditch meeting, the Chinese president chooses not to come. It is perhaps one of the great ironies of COP26 that the leader of the nation that emits more carbon than the United States, India and the European Union combined is missing the climate conference in Glasgow.
However, even in his absence, Xi Jinping assures that his government is doing everything to effectively fight against global warming and that his physical absence at the top should not be confused with inaction in the face of the major problems facing humanity. to face. In addition to a commitment to control the increase in greenhouse gas emissions by 2030 and achieve net zero emissions by 2060, China announces that it has quietly drawn up an extraordinarily comprehensive climate plan.
The Chinese president is full of statements to support his action. Like a Mao, he recently declared: "We will take the development of an ecological civilization as a guide" , "to coordinate the relationship between man and nature".
Xi went on to urge that the big goal is for China to "live within planetary borders and build a green, low-carbon circular economy."
However, it would seem that there is a certain disconnect between the political statements of good intention and the current economic reality.
While the global economy has strongly recovered, the Asian giant is bearing the brunt of the soaring cost of raw materials, in particular coal, on which it depends 60% to power its power plants. This situation pushes power plants to idle, despite strong demand, leading, at the same time, to rationing of electricity and an explosion in production costs for companies.
To cope, the Chinese government has restarted a large number of coal mines and has just decided to increase its coal production by more than one million tonnes per day. According to the planning agency NDRC ( National Commission for Reform and Development), daily coal production has now exceeded 11.5 million tonnes since mid-October. A series of decisions that undermine the Chinese president's promise to start reducing his country's carbon emissions before 2030.
But Xi Jinping repeated it: "There are no plans to end electricity from coal, which accounts for more than 60% of the country's energy supply ." With 80% of all the world's energy derived from fossil fuels, Chinese officials stress the need to balance new and traditional energies.
In the end, China is starting to excel in the game of contradictions. Both the world's largest producer of coal and the world's largest polluter, it is also the country that invests the most in clean energies to the point of occupying a leading position in solar and photovoltaics.
Posted on 2021-11-02 19:23