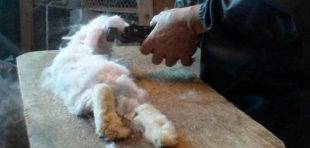 Kering gives up fur.
|
Posted on 2021-09-28 17:38
This is a great victory obtained by PETA, its activists and all the organizations that work on a daily basis to change the animal condition in fashion.
The notable new breakthrough to be celebrated today concerns the luxury sector and more specifically fashion.
Indeed, the Kering group announced on Friday, September 24, 2021, that it was ending fur sales in all its brands from the Fall 2022 collections; which means Saint Laurent and Brioni - the last two houses that had yet to ban fur - are joining Bottega Veneta, Gucci, Alexander McQueen and Balenciaga.
This victory is the culmination of a long global campaign in favor of animals killed for their fur. Surveys carried out in numerous fur farms all over the world show the same unsanitary and cruel conditions and extreme suffering. Animals on farms are neglected, endure hunger and thirst, and often have open, untreated wounds. Many animals go mad from confinement and show signs of severe psychological distress, and some develop into self-harm and cannibalism. The bodies of dead animals can be left behind, often in cages near family members.
Almost 20 years ago, Kering started removing fur from its Bottega Veneta brand. Since then, PETA has kept the pressure on the company to ditch fur in its other fashion houses.
In 2017, after years of protests from PETA entities, Gucci announced a fur-free policy.
A pioneer within the group, Gucci announced in October 2017 to stop the use of fur from the spring-summer 2018 collections, then joined by Balenciaga, Bottega Veneta and Alexander McQueen. For several years, many luxury brands including giants like Chanel have turned away from fur.
Only Brioni and Saint Laurent had not taken the plunge at Kering, leading the animal rights organization PETA to demonstrate on March 10 in front of the Saint Laurent store on avenue Montaigne in Paris, after the protests expressed on the social media about an ad where model Kate Moss posed in a fox jacket.
In 2020, PETA USA took the campaign to the boardroom, becoming a shareholder of Kering. To make its voice heard, PETA has relied on the strategy of entryism within the major clothing groups. The organization, customary for shock advertising campaigns or political lobbying to influence the debates, had decided to invest in the stock market taking advantage of the fall in prices during the crisis. In its stock portfolio, there are now about twenty companies, including the French group Kering (which owns Saint Laurent, Gucci or Balenciaga), but also Burberry, Ralph Lauren or Guess, explains PETA.
The objective of this process is, of course, to influence decisions and make noise within groups. Concretely, acquiring these shares in different companies could allow PETA to access shareholders' meetings in different companies. PETA thus hoped to be able to influence the commercial orientations decided at the highest level in order to encourage companies to ban wool, mohair, cashmere or even fur. A strategy that is paying off, judging by the results obtained.
In 2021, actress Gillian Anderson wrote a letter to CEO François-Henri Pinault, calling on the fashion giant to adopt a company-wide fur ban policy. Then, in 2021, Kering confirmed that Alexander McQueen and Balenciaga were officially furless - making Saint Laurent and Brioni the only two fashion houses that had yet to ban fur.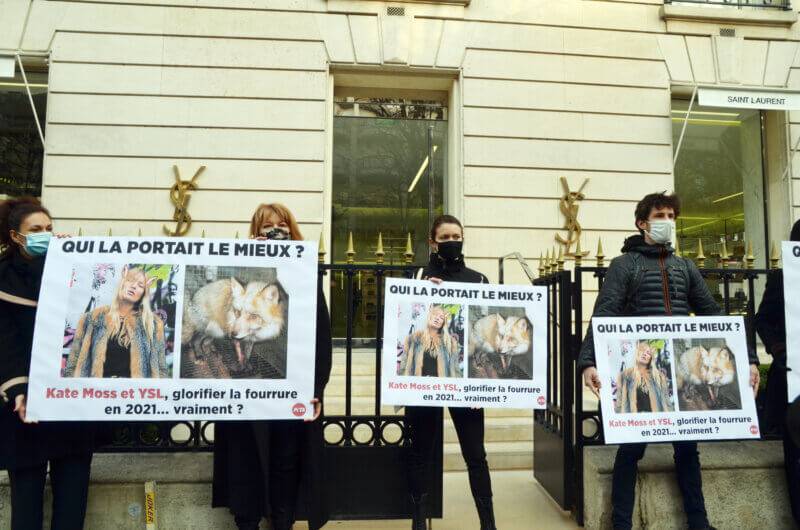 Michel Pourny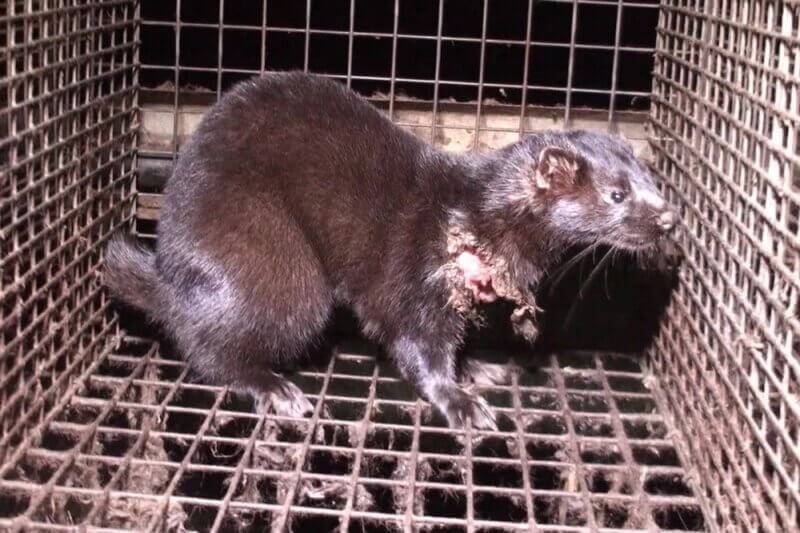 If there is only one thing we can be sure of, it is that when we buy a garment with fur, sentient beings have been brutally killed for their skin, often after a lifetime of suffering and suffering. deprivation.
A petition from PETA called on Saint Laurent and Brioni to " join the hundreds of other designers and retailers - including Armani, Burberry, Chanel, Gucci, Macy's, Michael Kors, Prada and Versace - who now refuse to sell clothing or accessories in fur " . Marie-Claire Daveu, Director of Sustainable Development at Kering, explains: "We consider that slaughtering animals that will not be eaten strictly to use their fur does not correspond to modern luxury, which must be ethical, in tune with the times and social issues. "
As for the "standards related to animal welfare" published by the group in 2019, they "will continue to be rigorously applied, with regard to other animal fibers and materials , " she said. "In luxury, we are an influencer, we launch trends, so we consider that it is part of our responsibility to get things done. "
The approach is welcomed by the Brigitte Bardot Foundation, which now calls on the world number one in luxury, LVMH, to follow this decision "in the same spirit of progress, of respect for the living" , reacted Christophe Marie, its spokesperson.
While PETA and all the other militant players are delighted that all these prestigious brands have given up on fur, the fight is not over for all that. Other companies continue to support this cruel industry. This is the case with LVMH.
LVMH declares "to leave its houses the possibility of continuing to use fur in order to offer its customers who wish to wear products made in the most ethical and responsible way possible" . He specifies that he has banned "endangered species" furs. An "animal welfare charter" governs the group's supplies, which aims for "100% traceability" of its sectors "by 2026" . A verbiage that hides a much less glamorous reality. Ethics, responsible, charter of well-being, marketing can often work miracles, but in this case, cannot sweeten the suffering of animals clubbed, drowned, electrocuted, gassed and skinned alive for the trade of their coat.
Faced with pressure from animal protection associations and ethical considerations from a growing part of consumers, it is to be hoped that the last recalcitrant will quickly change their mind. Here, as in many areas, it is the consumer and his act of purchase that will show the way forward.
Posted on 2021-09-28 17:38