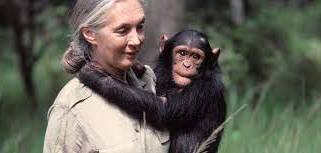 Jane goodall
|
Posted on 2021-09-14 10:39
Jane Goodall, born April 3, 1934 in London, England, is a pioneer in human-animal relationship research and has been involved since childhood in the preservation of African wild animal life. From a dreamy little girl, Jane grew up to be an adventurous scientist and an activist. Dr Jane Goodall is today a primatologist, anthropologist and ethologist recognized around the world.
This Wednesday, September 8, 2021, Jane Goodall has just been appointed Honorary Member of the IUCN. An award that rewards his work and his life, "to celebrate and recognize his remarkable work having made a significant contribution to the conservation of nature", as well as the work carried out by the Jane Goodall Institute in the field.
DV8 World News will be as close as possible to the news of Dr Jane Goodall which promises to be rich in the coming weeks. Thus, we will cover all the main deadlines, namely:
OCTOBER 15 TO NOVEMBER 15:
CAMPAIGN IN FAVOR OF WILDLIFE PROTECTION IN FRANCE WITH A LAUNCH ON THE OCCASION OF A WEEKEND AT THE GOODPLANET FOUNDATION ON OCTOBER 16 AND 17
Jane Goodall will intervene there for an exchange with visitors, for an hour, from 3 p.m. to 4 p.m. on Saturday, October 16, via zoom.
Free event - Hours: 11/19 hours.
Address: GoodPlanet Foundation, 1 carrefour de Longchamp, Paris 16.
Rich and varied themes will be addressed such as the importance of the issues facing the 6th extinction of species, the fragmentation and reduction of natural habitats, the impact of man ... All these issues are essential not only in distant lands, but also here in France. The objective of the work carried out by Jane Goodall and her teams is to raise awareness of the urgency of the actions to be taken but also to highlight these shadow heroes, those who act day after day, concretely, in the field. 8 projects were selected. They will be supported by 10 associations with admirable work and will deal with very complementary issues, each as important as the next ... We will thus find: - projects dedicated to the protection of wild fauna in a recognized rescue center which needs expand (Faune Alfort) or in creation (La Belette) as well as in a unique nature reserve in the Camargue (Marais du Vigueirat); - projects dedicated to the protection of natural habitats for wildlife by offering purchases of forests for free evolution (States Sauvage) or awareness-raising on the subject (Animal Cross) - projects dedicated to the protection of a particular species : horses of Przewalski with the TAKH and the SNPN which work for the reintroduction of the beaver in France. The campaign is, of course, carried out on Blue Bees, THE green crowfunding platform which, in addition to this promotion, brings its expertise to each project leader to better learn how to promote the project, to manage the campaign. And the 8 projects are carried out under the sponsorship of the Jane Goodall Institute which is delighted to be able to highlight wonderful projects, carried by quality associations & offer counterparts to these beautiful associations to help them. The projects are not all uploaded yet, but here are a few, for example:
Fauna Alfort: https://bluebees.fr/fr/project/908
Animal Cross: http: // https: //bluebees.fr/fr/project/906
Wild States: https://bluebees.fr/fr/project/907
The Vigueirat Marshes: https://bluebees.fr/fr/project/910
SNPN: https://bluebees.fr/fr/project/913
There will be an official launch planned at the GoodPlanet Foundation. On this occasion, a weekend to raise awareness of wildlife in France will be organized. The on-site teams will also offer workshops, conferences, films and of course a showcase of the 8 projects.
In addition to that, all those who wish it will be able to spend an hour with an inspiring personality in the field of wildlife: the director of IFAW, ASPAS, the veto specialist in wildlife in France, Florence Robert "the shepherdess of the hills ", Geoffroy Delorme" the deer man ", Yolaine de la Bigne, etc.
And for 50 euros, a small group of 10 people will be able to interact with this person in a more privileged way.
The funds thus collected will be entirely donated to the various projects! Many axes have been defined in order to tackle the subject:
- the challenges of protecting wildlife in France
- highlighting 10 superb projects (or a focus on some of them, such as ... the Vigueirat marshes)
- everyone can help, everyone can act: here is a concrete way to get involved
- the importance of "small" projects in addition to very large NGOs and these everyday heroes… .;
OCTOBER 19:
RELEASE OF THE BOOK OF JANE "THE BOOK OF HOPE" Literary event of the new school year, the book of Hope will be released on October 19 at Editions Flammarion.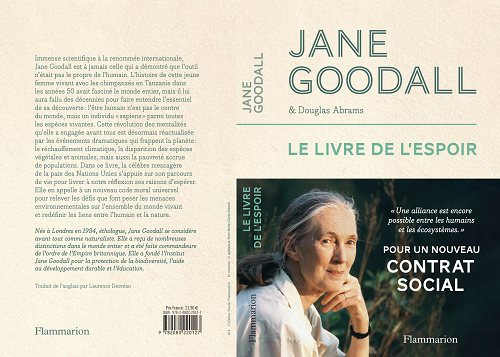 NOVEMBER 15:
CONFERENCE BY JANE AT THE CLOSING OF THE CYCLE OF CONFERENCES ON HUMAN ANIMAL RELATIONSHIP
Digital conference.
Single price of 5 euros, donated in full to the 8 "awakening of the wild forces" projects for the protection of wildlife in France.
More info: https://janegoodall.fr/les-conferences-digitales-de-jane/
To register: https://www.helloasso.com/associations/institut-jane-goodall-france/evenements/conference-exceptionnelle-du-dr-jane-goodall-le-lundi-15-novembre-de-19h -At 20 o 'clock
This year, the Jane Goodall Institute and Faune Alfort have teamed up to offer a cycle of six conferences that showcase young researchers and their projects and research carried out on the Human-Animal relationship. These conferences are intended to present to the general public different actors and actresses involved in the protection of wildlife, whether through their research, their activism or their actions in the field. An hour to inform us, raise awareness, make us think… but also a great opportunity to ask questions. This series of conferences will thus offer the opportunity to meet:
- Béatrice Luisi on October 14,
- Manon Tissidre on October 27 who will tell us about the wildlife conservation centers of Faune Alfort
- Dr. Jane Goodall, in person, Thursday November 15th.
All of these conferences are free. With the exception of that of Jane Goodall, for whom a participation of 5 euros will be requested, fully donated to the field.
For more information: https://janegoodall.fr/les-conferences-digitales-de-jane/
A DIGITAL SOLIDARITY AUCTION NOVEMBER 18 TO 24:
JANE GOODALL INSTITUTE DIGITAL AUCTION
The presentation page will not be online until the beginning of October.
For those who want to help the Jane Goodall Institute, support it while offering themselves or offering an original, ethical gift… or preparing their Christmas gifts: a wonderful opportunity!
Posted on 2021-09-14 10:39