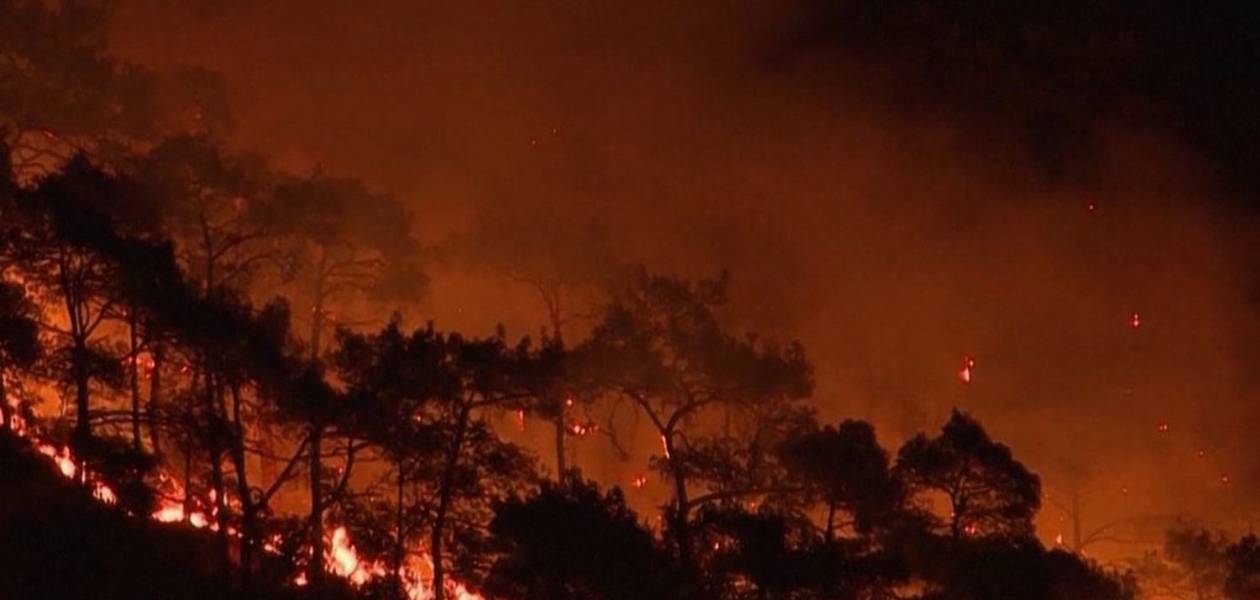 Fires in Europe summer 2021
|
Posted on 2021-08-03 14:52
Forest fires in Turkey, Greece and Italy - Much of Europe affected by extreme heat and devastating fires.
A heat wave in southern Europe, fed by hot air from North Africa, has sparked deadly fires across the Mediterranean. The death toll stood at eight last Sunday. Forest fires are raging near seaside destinations frequented by holidaymakers at this time of year in Turkey. Antalaya, Mugla and the surrounding countryside, the picture is grim with villages destroyed, animals on fire and people forced to evacuate. Turkish President Recep Tayyip Erdogan called parts of southern Turkey affected by the fires "disaster areas".
Fires also affected the Italian island of Sicily, Croatia and western Greece, where some residents had to be evacuated by boat to escape the flames. Bathers on an Italian beach south of the Adriatic town of Pescara fled on Sunday when they spotted towering clouds of smoke and flames from a blaze in a nearby pine forest. Meanwhile, in Van province in eastern Turkey, weekend flooding destroyed at least six homes after a small river overflowed amid heavy rains.
Turkey is living "hell" with fires. The raging forest fires there, for a fifth day, brought the death toll to eight. Residents and tourists of Antalya and Mugla fled the danger aboard small boats as the coast guard and two navy ships waited at sea in case a larger evacuation was needed. A farmer Nurten Almaz gives her testimony and declares that she has lost everything. "I feel so much pain, like I'm going to lose a child," she said. The 63-year-old woman lost her animals and her house as well as "a century of work". She called for the death penalty for those who may have caused the fire. Residents had to flee the nearby village of Cokertme as the flames approached. Some got on boats and others left in cars as the fire got closer and closer. In one video, fire trucks and cars were racing to escape a blaze raging on all sides. After dark, the village looked apocalyptic from afar, with flames taking over the dark hills. Bodrum Mayor Ahmet Aras said people had experienced "hell" near Cokertme and Mazi as they walked away from the blaze. He said the blaze could not be stopped and hoped to protect residential areas, but said it was too late for the trees.
The Italians flee from towering clouds of smoke and flames.
On Sunday afternoon, bathers on an Italian beach south of the Adriatic town of Pescara fled when they spotted towering clouds of smoke and flames from a blaze in a nearby pine forest, a reported the Italian news agency La Presse. Several people were reportedly injured when they tried to extinguish flames fanned by the wind that had reached their homes, he said. Local officials told state television that a retirement home in Pescara had to be evacuated. Sicily tackles flames as temperatures peak at 45 degrees Firefighters on the Italian island of Sicily have battled dozens of wildfires fueled by temperatures exceeding 45 degrees Celsius, prompting the governor to the area to seek help in Rome over the weekend.
Some 150 people trapped in two seaside areas in the city of Catania were evacuated late Friday by sea, where they were picked up by rubber dinghies and transferred to coastguard boats. A beach with sun loungers and umbrellas was completely destroyed by fire. Catania airport was also briefly closed to give priority to helicopters and planes fighting the flames. A fire in western Greece leaves more than a dozen people in hospital.
In Greece, where temperatures have reached 39 degrees Celsius, 102 degrees Fahrenheit, in recent days, firefighters have attempted to contain a forest fire that was burning in the west of the country that destroyed homes and left 15 citizens in the hospital with breathing problems over the weekend, authorities said. Temperatures have been high across much of the country in recent days and are expected to reach 44 degrees Celsius on Monday and Tuesday.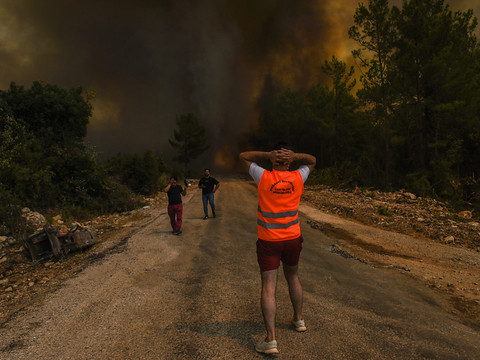 The EU has decided to send reinforcements to help fight the fires in Turkey. Indeed, the European Commission announced that it had helped mobilize a Canadair firefighting aircraft from Croatia and two from Spain to help fight forest fires in Turkey. Planes from Ukraine, Russia, Azerbaijan and Iran also helped. Aerial firefighting was not possible on Sunday evening, but eight planes and 50 helicopters are expected to target the fires near Mugla on Monday.
All the blazes are spreading in favor of extremely dry soils and things do not appear to be improving as meteorologists have issued new warnings.
Posted on 2021-08-03 14:52