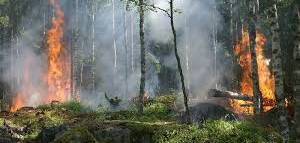 Fires in south-eastern France August 2021.
|
Posted on 2021-08-25 16:22
For several days, fires in the south-east of France raged. The Maures mountains burned down, and with it the Plaine des Maures nature reserve - one of the jewels of biodiversity in the Mediterranean, unique in all of Europe.
In an abnormal climate, with temperatures rising over several days and a very strong wind, flames swept through the region, consuming large swathes of the nature reserve. Several fires broke out on three fronts, between the villages of Grimaud, Vidauban and La Garde-Freinet. The sweltering heat and ever-changing wind continually fueled the blazes, leading to the deaths of two firefighters, dozens of injuries and more than 10,000 people must have been as firefighters fight to contain the blaze. Reserve personnel must follow firefighters' instructions in order to find safety and considerable resources have been devoted to the defense of coastal areas where homes and campsites have been attacked by the flames.
The fires destroyed unique vegetation with centuries-old pines and oaks, a rare ecosystem and biodiversity, not to mention intolerable human tragedies and economic and ecological disasters. The massif is the pride of the entire Var region, with its unique geology and wild vegetation, where superb trails cross volcanic flows and expanses of red sandstone.
Now that the fires have been brought under control. Now is the time for prevention. The firefighters drowned, as quickly as possible, the last fumes to avoid any recurrence. For several days, they have been moving at the foot of each stump on the 80 kilometers of edge which encircles the burnt area. "It is a pioneering work, it is a work which is tiring and exhausting, to prevent embers from being in the humus or under the soil, that the roots themselves are consumed" , explains the captain Olivier Pecot, firefighter from Var.
The future management of this region must involve ecological safeguard and restoration, with a keen understanding of the new climatic situation facing all humans on Earth. We never thought that we would have to rebuild this sanctuary of life and nature on such a scale. In recent years, mega-fires of this type, like the ones we experienced in 2003, seemed to be a thing of the past - before that terrible week of out-of-the-ordinary fires, our previous efforts to prevent fires and intervene early seemed to be paying off. fruits. But unfortunately today, the observation is clear: dead, wounded, dozens of destroyed houses, the disappearance of hundreds of turtles, reptiles, bats and birds, thousands of plants and rare and protected insects, and hectares of ecosystems.
We also need to think about the loss of species that had not yet been recorded and may never be recorded today. Yes, Mediterranean habitats have adapted to cope with fire, but in this extraordinary context of global warming, these hells are altering the ecosystem itself - perhaps forever. Soon residents, park managers, scientists and users of these devastated nature reserves will have to roll up their sleeves and find a way to restore them for future generations.
Once the risks of rework have been ruled out, it will be necessary to draw up a final inventory and see what remains.
Posted on 2021-08-25 16:22