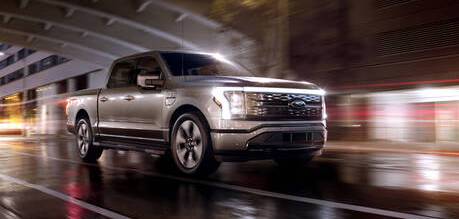 Ford
|
Posted on 2021-05-27 18:08
The American car maker Ford is continuing its ecological transition and announces that 40% of the vehicles it will produce in 2030 will be electric. To support this transition, Jim Farley, CEO of the group, presented his Ford + plan and announced an investment of 30 billion dollars, or 5 billion more than what he had initially planned last February. In this, it follows the movement initiated by all the players in the automotive industry.
A sign of the times, the legendary F 150 pickup is also going electric. Not without some success, moreover, if we judge from the level of pre-orders of this vehicle which will not be offered for sale until the middle of next year. 77,000 people have already asked for an option. Another strong symbol of the Brand, the Mustang has also seen an electric version with an SUV called Mach-E. Ultimately, all market segments will be electrified, including the utility segment.
Recently, Ford joined forces with the South Korean group SK Innovation to develop its own electric batteries. Remember that the battery represents a significant strategic issue in the manufacture of an electric vehicle. To date, they are mainly manufactured in Asia, and more precisely in China, forcing all manufacturers to a dangerous dependence. It is to fight against this dependence that each manufacturer innovates and invests in research. Like Elon Musk for example and his gigafactory project in Germany.
The competition promises to be tough. Each manufacturer is upgrading its weapons to offer ever more complete ranges of electric vehicles. The market, still dominated by Tesla, is growing rapidly. Indeed, the financial incentives of the public authorities, the dealers and the desire of the customers to get rid of thermal vehicles too polluting and badly perceived, forced the manufacturers to shift gear.
If the market share of electric vehicles in the United States is still low at 2.5% in the first quarter, the Biden administration should give a good boost to this industry. Indeed, the American president considers that the development of electric cars is a priority for his country. This is why, as part of its various recovery plans, it presented multiple incentives, with the construction of a national network of 500,000 charging stations by 2030 or the switch to electricity for 20% of famous people. yellow school bus.
Many consider the electric vehicle market to be still in its infancy, however experts estimate the market to be around $ 5,000 billion in the coming years.
Beyond the vehicle itself, a multitude of new professions and services will emerge thanks to electricity. And Ford, like the others, got it right. They understood that the transformation of the sector is underway for good and that they have no interest in missing the turning point.
Posted on 2021-05-27 18:08