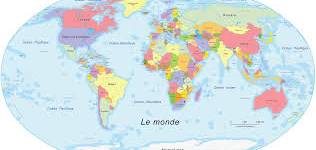 Green Climate Fund.
|
Posted on 2021-04-24 11:32
The climate summit, which was held last Thursday at the initiative of Joe Biden, ended with announcements of strong commitments. The vast majority of heads of state responded and declared themselves ready to step up their efforts to combat global warming.
But what about the poorest countries? Crushed on the one hand by an ever heavier debt that they are unable to repay despite the various moratoriums and additional aid granted, and weakened on the other by a global pandemic, how will they be able to take an active part in ecological transition?
Fighting against global warming is a global action that will require the support of all countries. However, they are not all on an equal footing and do not have the same weapons to deal with the climate emergency.
The rich countries are aware of this and this collective effort will not be able to be accomplished without helping the poorest deprived of the necessary financial means to make heavy investments to make their economies eco-compatible. As the World Bank recalled: "By increasing the debt burden on governments, which was already at record levels before the crisis, they found themselves with fewer resources to invest in a recovery that will also put the planet on the back burner. more sustainable bases. "
In order to find a bearable compromise to this situation, the IMF and the World Bank will lead a reflection to reduce the debt of poor countries in exchange for climate-responsible investments. The working group has set itself the deadline of COP 26, which will be held in Glasgow next November, to "study creative options to help countries meet these simultaneous challenges" and present the first avenues.
"This work is only just beginning" said the World Bank. "But we believe that a proactive approach is essential: we need to take a close look at how potential solutions to climate and debt challenges can be integrated to address the main development challenges of our time." This debt swap could indeed be an effective way for poor countries to deal with climate change.
While waiting for the first proposals, Joe Biden announced, during his summit, that the United States would double its official aid to developing countries by 2024. Still in the same clearly stated desire of the American president to mark the break with his predecessor, he justified this aid by the need to "turn the page on the sharp drop in international funding provided by the United States on the climate" during the previous administration.
In 2022, the US government is expected to top up the Green Climate Fund with an additional $ 1.2 billion.
As a reminder, the Green Climate Fund supports developing countries in their ecological transition. Valued at $ 10 billion, it was set up in 2009 and is headquartered in Korea.
Posted on 2021-04-24 11:32