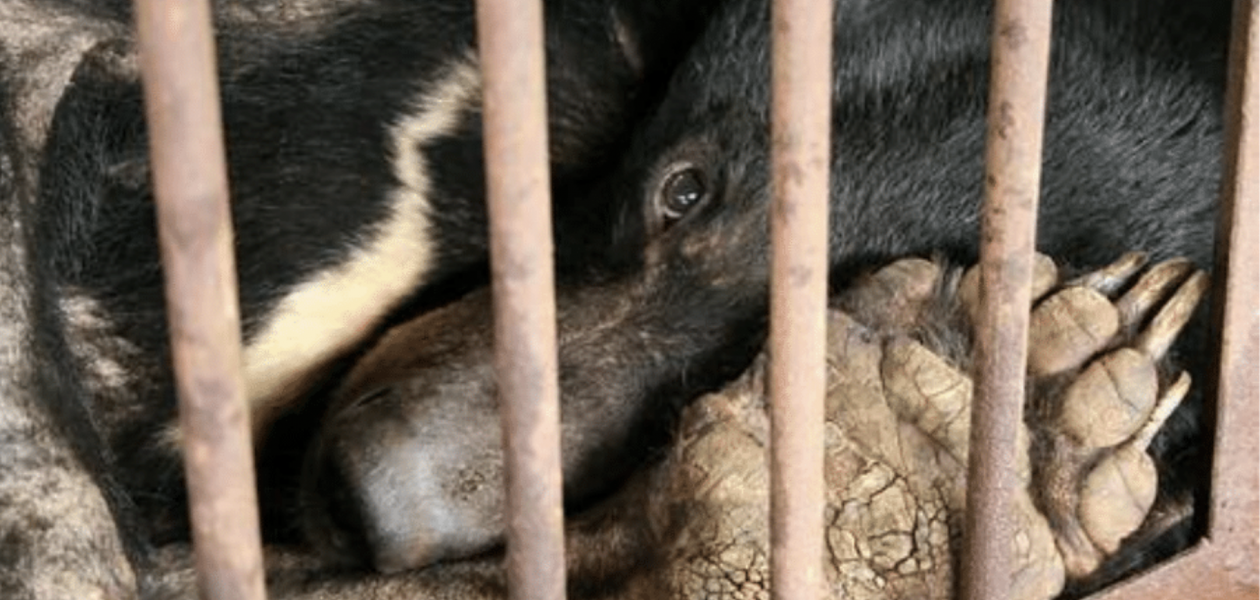 Bear bile farming in Vietnam.
|
Posted on 2022-05-25 19:30
Celebrities, conservationists, and prominent animal rights activists around the world join Animals Asia to reveal news of the final sanctuary for ending bear bile farming in Vietnam.
The new sanctuary will be the last one required to save the remaining bears on Vietnam's bile farms. The cruel practice of bear bile farming has been pushing moon and sun bears towards extinction in the country.

The organisation has rescued over 650 bears since it was founded in 1998 by Jill Robinson MBE. Robinson, has been a pioneer of animal welfare in Asia since 1985 and is widely recognised as the world's leading expert on the cruel bear bile industry, having campaigned against it since 1993.
London, 24 May 2022 Animals Asia has announced that actresses Tara Buck, Torrey DeVitto, Marina Squerciati, and award-winning photographer Katarina Benzova will join the organisation's founder and CEO Jill Robinson to unveil the location of their new sanctuary in Bach Ma, Vietnam, on May 27th.
Global superstars including Dame Judi Dench, Ricky Gervais, James Cromwell, Stephen Fry, Peter Egan, Kesha, Jimmi Simpson, Rick Wakeman, and acclaimed conservationist Dr Jane Goodall, DBE will contribute to the star-studded event in Vietnam with their video statements to support Animals Asia in this monumental step.
A new sanctuary in Vietnam will leave no bears behind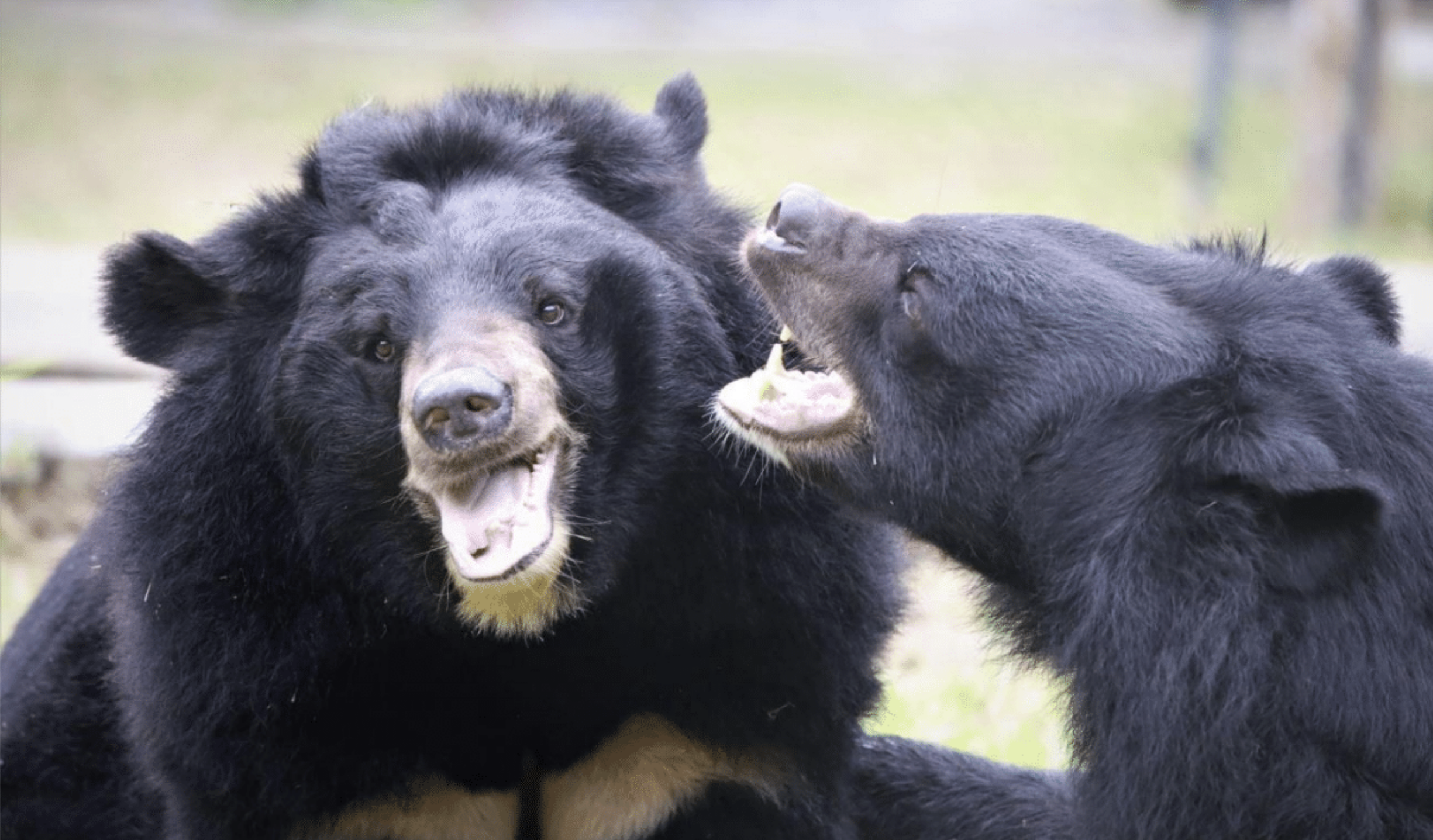 The new sanctuary will be a major milestone for the organisation as it brings it on the verge of ending the cruel practice of bear bile farming in the country. The practice has been pushing Asiatic black bears (aka moon bears), and sun bears towards extinction in the country, as The International Union for Conservation of Nature (IUCN) lists the species as vulnerable to extinction, with an overall estimated decline of 31% for the last 30 years.
The most up-to-date surveys show there are around 310 bears still on farms in Vietnam. After signing a Memorandum of Understanding with the Vietnamese Government in 2017, the organisation has begun to rescue these remaining bears and the bile farms have been closed for good one by one in the country. (link to the news) While Animals Asia's award-winning current bear rescue centre in Tam Dao, Vietnam is now approaching its full capacity; the organisation is about to break ground for a new sanctuary to start rescuing the remaining bears on farms.
This 12-hectare sanctuary will sit within the beautiful, mountainous surroundings of the Bach Ma National Park and eventually be home to the all rescued bears.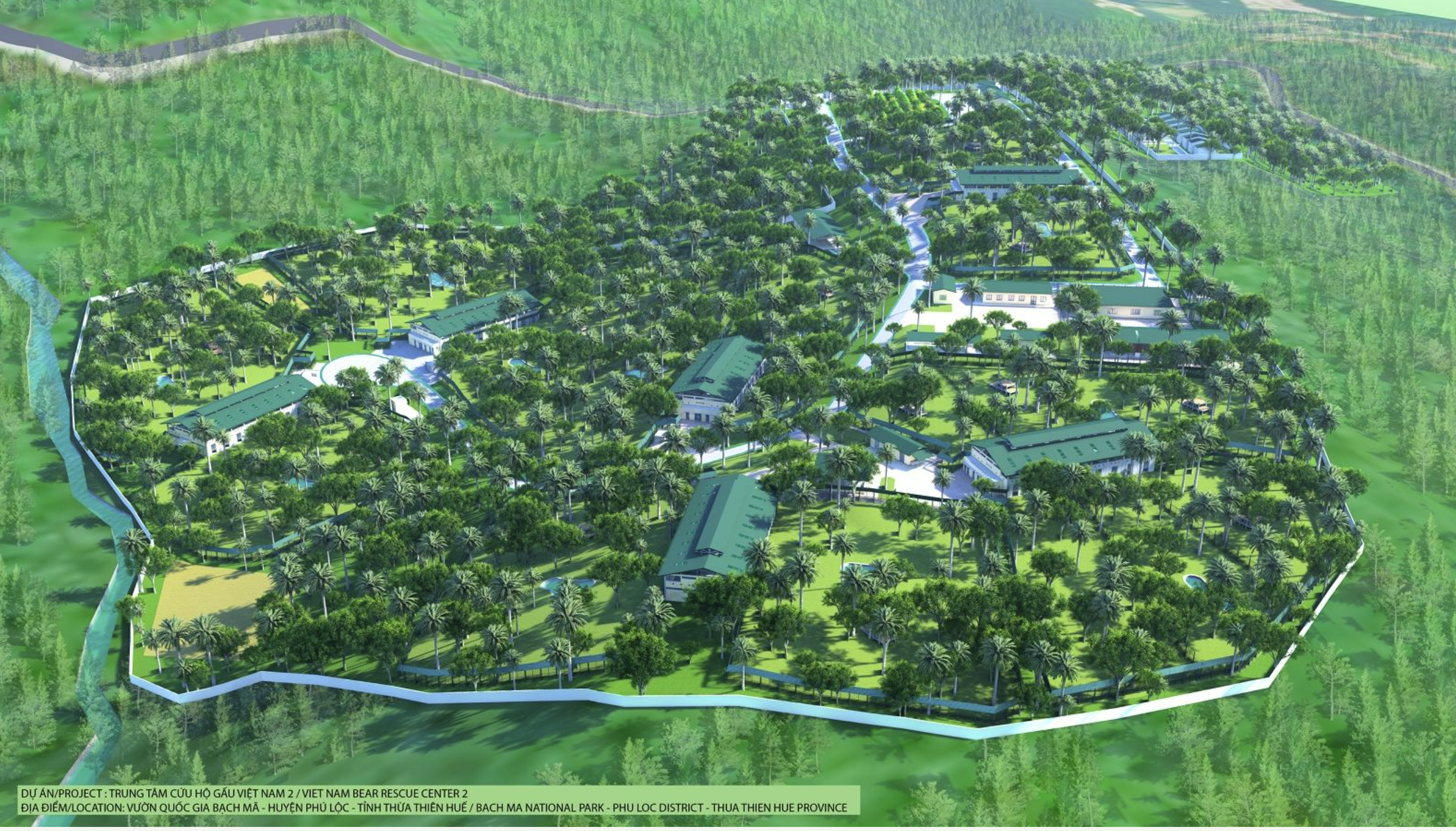 Once the last bear is saved, this trade will be history for Vietnam, and will set a precedent for other countries in the region to follow. And for Animals Asia, it will be the achievement of one of their founding goals - to end bear bile farming in Vietnam.
"This is a proud moment for humanity, Animals Asia, Vietnam and our supporters around the world", says Jill Robinson. "Together, in collaboration with the Vietnam government, we bring about this milestone in protecting wildlife across the country. Today we show that courage, empathy, tenacity, and determination have brought about significant change, as we step up and demonstrate the way forward in helping to save the world's vulnerable species."
Star-studded event in Vietnam to unveil Vietnam's last bear sanctuary
In order to raise awareness of this monumental step in biodiversity protection, the organisation's high-profile supporters around the world travelled to Vietnam for the unveiling ceremony of the new sanctuary. Acclaimed film stars Tara Buck (True Blood), Torrey DeVitto (The Vampire Diaries, Chicago Med), Marina Squerciati (Chicago P.D), reality television personality Josh Packham (Love Island), award-winning photographer Katarina Benzova, and Vietnamese actress Tang Thanh Ha will visit the organisation's current sanctuary in Tam Dao on the 24th and 25th of May. (link for their statements) Now home for nearly 200 bears, the centre is a model of successful collaboration between an NGO and government working together to protect and conserve endangered and threatened bear species.
Guided by Jill Robinson, Vietnam Country Director Tuan Bendixsen, and Bear & Vet Team Director Heidi Quine, the stars will have the opportunity to discover and enjoy life in the sanctuary in Tam Dao. They will observe the bears while they are foraging, playing, or taking a bubble bath, and be briefed by the organisation's expert staff about the bear care and enrichment programs.
The blue riband event will be on the 27th of May, when plans for the new sanctuary in Bach Ma will be officially revealed. While the event will be broadcasted live on social media for Animals Asia's followers around the world, the organisation's high-profile supporters, such as Ricky Gervais (video), Dame Judi Dench (video), Stephen Fry (video), Peter Egan (video), Jimmi Simpson (video), Kesha, (video), Rick Wakeman (video), Alan Cumming (video), and Dr Jane Goodall, DBE (video) will be joining the event with their video statements to congratulate. Gervais recently announced that he donated £142,414.47 to Animals Asia from the platinum ticket sales of his stand-up show 'Supernature'. (news)
"I want to give warm congratulations to Jill Robinson, and the whole Animals Asia team at the sight of their newest sanctuary", says Jane Goodall. "Animals Asia is ending bear bile farming in Vietnam. To protect these beautiful moon bears, please help Animals Asia build this last bear sanctuary and make sure that in Vietnam, there will be no bear left behind." (video)
Dame Judi Dench joins Goodall in calling for help in building the new sanctuary: "Please, will you help us, Animals Asia, to stop bear bile farming in Vietnam? It's a desperate practice, and it must stop as quickly as we can possibly make it." (video)
A race against time to save the last bears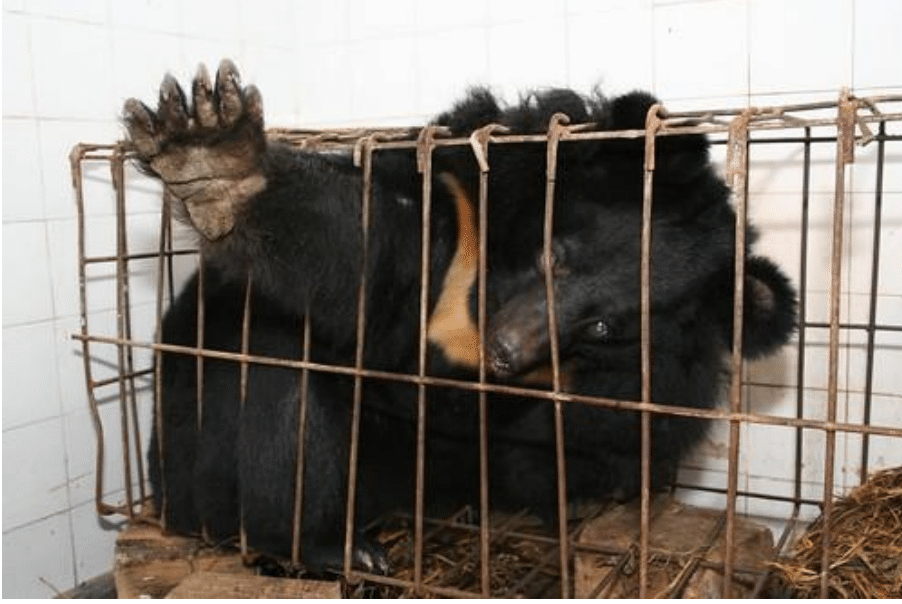 As over 300 bears are still trapped on farms, having their bile extracted by painful and invasive techniques, timing is critical, and their survival hangs in the balance. So the organisation calls on all animal lovers around the world to help raise funds for the new sanctuary and give every bile bear a chance to feel the grass beneath their paws, forage and play as a bear should do, before it's too late. The organisation launches its fundraising campaign worldwide, with an animation film which will be premiered during the event in Vietnam and on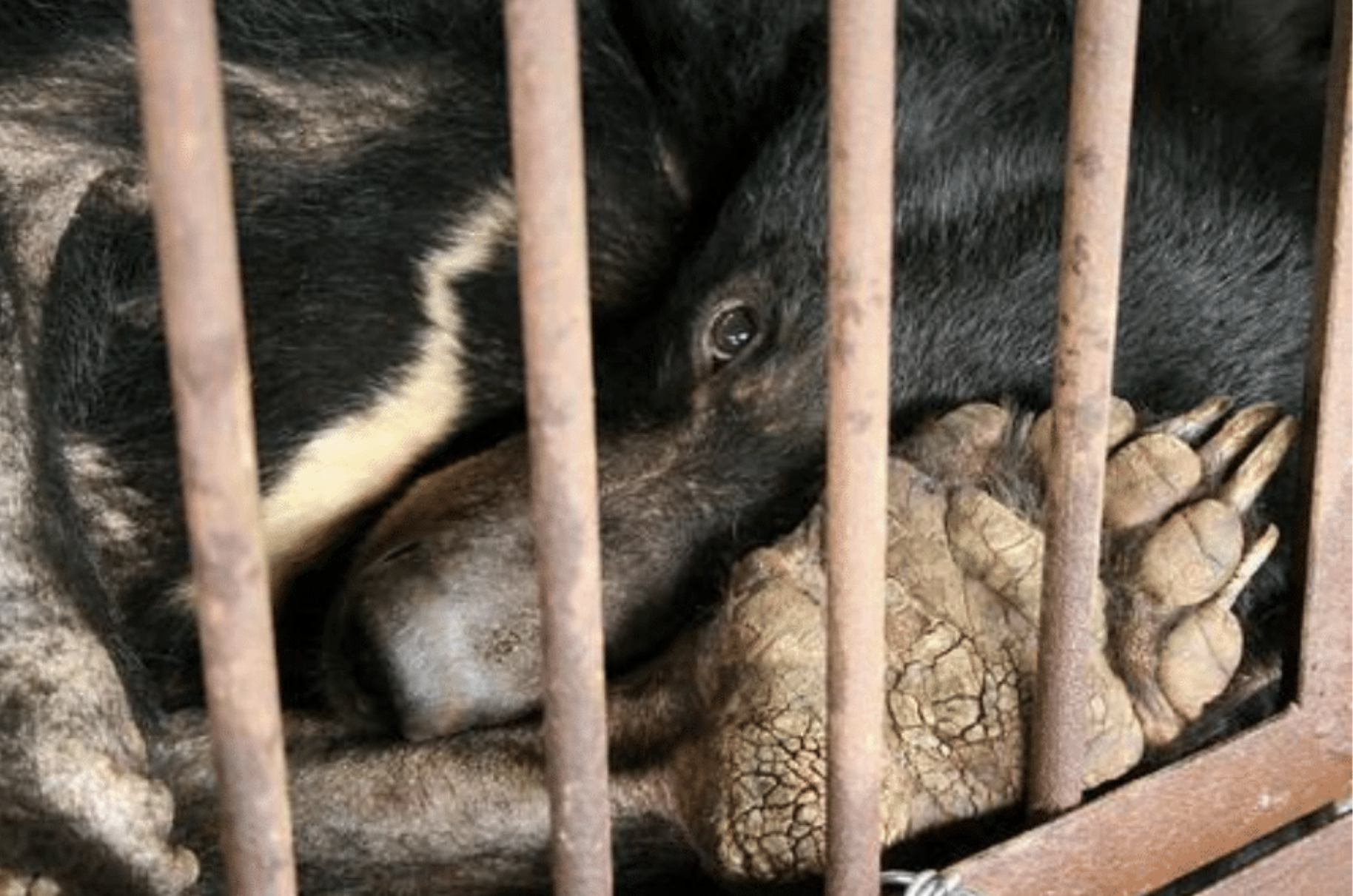 social media on the 27th of May. The film is produced by Vietnamese artist Cam Anh Ng, and voiced over by Animals Asia's long-time supporter and Vietnam Ambassador, American actress Maggie Q.
About Animals Asia
Animals Asia is devoted to ending bear bile farming and improving animal welfare across Asia. The organisation promotes compassion and respect for all animals and works to bring about long-term change. Founded in 1998, the Animals Asia team has been rescuing bears since 1994. As the only organisation with a bear sanctuary in China, Animals Asia operates award-winning sanctuaries in China and Vietnam. The founder and CEO, Jill Robinson MBE, Dr.med.vet. h.c., Hon LLD is widely recognised as the world's leading authority on the bear bile industry, campaigning against it since 1993. Animals Asia also works to end the trade in dogs and cats for food and abusive animal practices in zoos and safari parks and collaborates with governments and NGOs to improve the welfare of companion and captive wild animals. Please find more about Animals Asia here.
Please find here the media kit for further info and multimedia materials
The link to watch the ceremony online and donate here
Posted on 2022-05-25 19:30