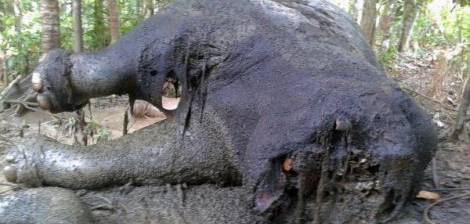 Sumatran elephants.
|
Posted on 2021-07-13 16:42
A critically endangered Sumatran elephant has been found dead and beheaded in Indonesia.
The main suspicion is that the animal was murdered by hunters because its prey was taken. The animal's body was found in a palm oil plantation in the Aceh region. An autopsy revealed that the elephant was also the victim of poisoning. The body was already at an advanced stage of decomposition. Researchers who analyzed the elephant believe it was around 12 years old.
Already in 2019, the body of a 40-year-old elephant, killed in similar conditions, was discovered by an employee of a plantation in the province of Riau. "The elephant's head was cut off and its severed tusks found three feet from the body." reported a member of the local conservation agency.
The rampant deforestation destroys the habitat of the elephant and the repeated conflicts with the man seriously weaken the species. The Aceh Conservation Agency estimated that the region has only 500 Sumatran elephants still living in the wild.
Ivory trafficking, rituals of all kinds, forced labor, killed to be eaten, there are plenty of reasons to witness the disappearance of the Sumatran elephant. Not to mention that its presence near oil palm plantations is a nuisance. The observation is that today the Sumatran elephant is classified as "critically endangered", its population having decreased by at least 80% over the last three generations, estimated at around 75 years. Over 69% of the potential habitat of these elephants has been lost over the past 25 years. Between 2012 and 2015 alone, 36 elephants were killed in Aceh province , victims of poisoning, electrocution and traps. At this rate and if nothing is done to reverse the trend, the species could reach the last stage; namely "extinct in the wild".
The Sumatran elephant is a subspecies of the Asian elephant. As its name suggests, it lives on the island of Sumatra in Indonesia. It differs from other Asian elephants by having slightly larger ears, but its morphology is similar to other Asian elephants.
This new case shows that, despite all the threats to the species, the killing continues and one is entitled to wonder what the Indonesian Ministry of the Environment intends to do to stop the massacre.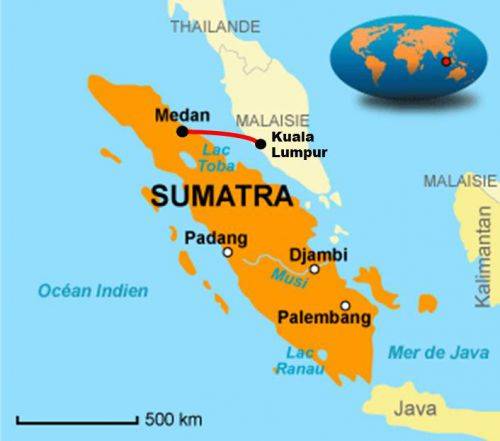 Geo point
Sumatra Island
Capital: Medan
Population: 11.48 million inhabitants
Area: 71,780 km²
Currency: Indonesian rupiah.
Posted on 2021-07-13 16:42