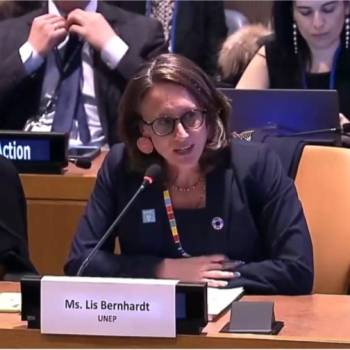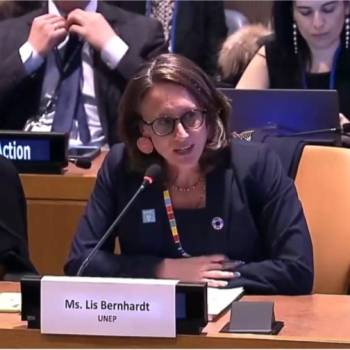 Mrs Mullin Bernhardt,
First of all, let me thank you for accepting this interview with DV8 World News. I am pleased to have such an environmental professional with us today. You are an environment, nature-based solutions, water and climate adaptation expert.
You cope with many issues we also feel so much concerned with and we try to report on. But before discussing these topics, here is my first question :
Thank you so much for inviting me to do this interview! It's an honor. My name is Lis Mullin Bernhardt, and I work for the United Nations Environment Programme at our beautiful headquarters in Nairobi, Kenya.
I've been working in the environmental space in different ways and different locations over the past 20 years – spanning environmental change, human rights, climate adaptation and water issues, and my favorite thing to do is to see us connect and link these issues, for the betterment of our environment, and for the betterment of mankind!
You have gotten a strong experience throughout the years in the ecological fields. What does your current job consist in ?
Currently I work in our Ecosystems Division at UNEP. I help coordinate UNEP's work on water across our different areas of work and different offices around the world, and I also help represent UNEP and environmental issues in the UN's coordination mechanism for water, UN-Water.
As far as ecology is concerned, what are the major threats humanity has to be prepared to face ?
Well, there is no doubt that we're facing a global water crisis. Water is the source of all life and it's under serious threat – too much, too little, wrong time, polluted. We've seen major floods over the past year alone in Chad, the Eastern United States, most recently this past week in Italy… while other countries from the Western United States to (this week) Spain are facing severe droughts. The problem really is getting more severe, more frequent, and more widespread.

At the heart of that, for me, is the health of our rivers, lakes, wetlands and aquifers around the world, which are under increasing pressure from growing and concentrating populations (such as in cities), overabstraction due to food and energy production choices and incentives, but also climate change and pollution, putting at risk the water sources that support billions of people.

So overall, we're seeing alarming stress put on the global water system, with countries in every region of the world experiencing extreme water events like flooding, drought, and the degradation of freshwater ecosystems ever more frequently. We are losing these ecosystems, and the biodiversity within them, faster than any other.

This is compounded by stresses to other global systems – food systems, Earth systems such as climate. We therefore need to take a systemic approach to address these issues.
Would you say that climate change has come to a halt or been reduced thanks to all the measures taken by the governments throughout the world, or on the contrary, it still goes on ?
Unfortunately, I think our efforts are still too late, too slow, and too little. Instead of being on track to keeping the world to 1.5 degrees above pre-industrial levels, which many agree would be needed in order to create a stable climate, some predictions have us going up to almost 3 degrees by 2050! That is not sustainable, and we have to work faster to decarbonize, decouple our transport, food, energy and other systems from greenhouse gases.
We also, though, urgently need to ramp up our actions on climate change adaptation – helping us, humans and ecosystems alike, become more resilient to the impacts of climate change – including more extreme events like floods and droughts, but also longer-term processes such as aridification, as well as things such as increased heat and saltwater intrusion into groundwater aquifers. Nature and ecosystems have a huge and important role to play here.
According to you, what would it take to stop climate change ?
We urgently need to decarbonize our industry and transport sectors, along with other highest polluting sectors, by keeping carbon, methane, and other dangerous greenhouse gases from getting into the air in the first place. But we also need to look at ways to better capture and store carbon that has already been released.

And, while doing that, we must work hard to anticipate and make ourselves, in particular our most vulnerable populations, more resilient to the impacts of climate change.
As the former coordinator of the Global Adaptation Network, how can people adapt to climate change ?
It was a real honor and pleasure to coordinate the GAN from 2021 to early last year. A major lesson I learned was that we *must* be better about finding good practices, what's working around the world, so that we can share those lessons to capacitate and inspire others to take action.
What is the biggest challenge you have to deal with ?
We consistently work across our different platforms, echo chambers and sectors to join up our messages and break down these silos. We need to work harder. I also very personally believe that we need to combat climate despair and bad news, which I believe can lead people (especially our youth) to give up hope for a peaceful and biodiverse future. While staying realistic, we need to get the world on the page of action instead of despair, towards a good life in the future that is more sustainable and in balance with nature instead of in opposition to it.
What are the main causes of water pollution in Africa and what problems does it cause ?
Water pollution is often, especially in developing countries, caused by a lack of safely managed sanitation, but also strong regulations of industrial processes or an ability to manage and treat wastewater. So all of that ends up flowing into our world's rivers, and ultimately to other ecosystems on land and coasts, causing a degradation and threats to human, economic and ecosystem health.
How do you help underdeveloped communities gain access to affordable safe drinking water ?
There is great work being done on this across the UN system, such as by UNICEF, the World Food Programme and the World Health Organization.
In some regions,

water scarcity is killing people, livestock, drying up crops and driving families from their homes in search of water, what are your levers for action.
Suggest to strike
Have we reached a turning point or do we still have time to reverse the situation ?


We do still have time. It's a serious situation, and it's late, but not too late.



What are your goals for the year to come ?
I'm looking forward to seeing a strong set of outcomes out of the UN 2023 Water Conference, and taking them into important upcoming meetings in 2024, including essential conventions for the Environment, Climate, Biodiversity and Desertification. Together, all 193 UN Member States need to work harder to connect their commitments and promises, to accelerate action and "put their money where their mouth is," as it were.
I am done with my interview, Ms Mullin Bernhardt. I have no more questions but maybe you would like to add something ?

Thanks so much, it was a pleasure.
Thank you once again for the time you have granted us.
Posted on 2023-05-03 17:37