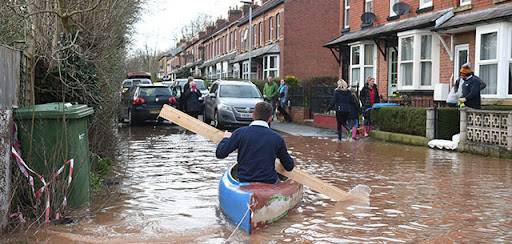 Floods and record heat will become the new norm.
|
Posted on 2021-07-31 11:08
More record heat waves are to be feared due to climate change. Scientists are convinced of this.
"Expect more heat waves to break current temperature ceilings," scientists say.
The likelihood of record heat waves is increasing due to climate change, according to scientists who are measuring temperature predictions in a new way. Researchers who looked at the rate of warming, rather than the magnitude of the warming, found that record-breaking heat waves occur in spurts during periods of accelerated global warming, according to a study published Monday in Nature Climate Change. .
"Events similar to those of back-to-back heat waves that have occurred in the western United States, including triple-digit Fahrenheit temperatures in the generally cool and humid Pacific Northwest, will become the norm if climate change is continuing as it is now, " Erich Fischer, climatologist at ETH Zurich and author of the study, told ABC News. In a high-emission scenario, record-breaking extreme heats are two to seven times more likely from 2021 to 2050 and 3 to 21 times more likely between 2051 and 2080, according to scientists. Even if man-made global warming were stabilized by strong global action, the frequency and intensity of heat waves would still be higher, but the likelihood of record-breaking events would be "dramatically reduced," the scientists said.
"Models first saw a decrease in climate records until temperatures started to rise in the 1980s with a much higher rate of warming," Fischer said. It was then that scientists began to see a sudden number of heat records as well as a "sharp acceleration in the rate" of records breaking temperature ceilings.
"Without climate change, we can hope that these records will become increasingly rare," said Fischer, comparing the current climate to " an athlete on steroids" .
A heat wave given today would be hotter and more frequent than it would have been in the past. Instead, observing how heat extremes exceed or 'break' the previous heatwave record could provide better insight into the driving mechanisms behind heat extremes - and offer a crucial indicator for those responsible to take. into account when planning strategies to deal with the new normal, the researchers said. "The take-home message from our study is that it's no longer enough to just look at past recordings or past weather readings ..." said Fischer. "We have to prepare for something different. Indeed, it is feared that heat waves and floods "become a new normal".
Take the example of the United Kingdom and the newly published State of the Climate 2020 report in the United Kingdom. He indicates that this country could suffer from extreme climatic hazards always more frequent causing disruptions "within the food chains, leading to certain species to fight to survive".
UK summers are likely to see temperatures over 40 ° C on a regular basis, even if humanity manages to limit global warming to 1.5 ° C, leading UK meteorologists have warned. The UK is already experiencing increasingly extreme weather conditions, with 2020 the third warmest, fifth wettest and eighth sunniest year on record - the first to fall into the top 10 for all three variables.
Data published in The State Of The UK Climate 2020 report revealed that the average winter temperature last year was 5.3 ° C - 1.6 ° C warmer than the 1981-2010 average.
This makes December 2019 to February 2020 the fifth warmest winter on record, as the temperature last summer was 0.4 ° C above average at 14.8 ° C. At the start of August 2020, temperatures reached 34 ° C for six consecutive days, with five "tropical nights" where the mercury never dropped below 20 ° C, making it one of the hottest heat waves. important to affect southern England over the past 60 years, the report's authors said.
Comparing data from the Central England Temperature series, which dates back to 1772, research revealed that the start of the 21st century was 0.5C to 1 ° C warmer than 1901 to 2000 and 0.5 to 1.5C warmer than 1801 to 1900. Professor Liz Bentley, Executive Director of the Royal Meteorological Society, said the world was already going through extreme heat due to a warming of 1.1 ° C to 1.2 ° C above pre-industrial levels . "These heat waves are just going to get a lot more intense - we're likely to see 40 ° C in the UK although we've never seen this kind of temperature before," she said.
"As we hit 1.5 ° C of global warming, it won't just become something we will see once or twice, it will start to become something we will see a lot more regularly. "Mike Kendon, a climate scientist at the Met Office and lead author of the report, said the figures showed a new normal for the UK. "In seven of the last 10 years we have seen temperatures of 34 ° C in the UK, compared to seven of the previous 50 years," he said. "So this is an indication that the baseline of our climate is changing and that what we consider normal is also changing. "Mr. Kendon warned that global warming man-made would last" long, long time, "adding that scientists from the National Information Center of the Met Office climate had been" frightened "by the extreme heat of 49, 6 ° C observed on the west coast of Canada in recent weeks.
"An event like this would be practically impossible without the influence of artificial warming, it is obviously a very serious impact ," he said. In addition to being warmer, since 2009 the UK has recorded its wettest February in 2020, its wettest April and June in 2012, the wettest November in 2009 and the wettest December in 2015, in a series dating back to 1862. Last year, two of the three wettest days on record - February 15 and October 3, 2020 - were recorded from a set of data of 47,000 days.
The 21st century also saw the UK's second wettest winters in 2014 and 2016 respectively. Changes in temperature and precipitation regimes are increasingly having an impact on the natural world, with blooms occurring for the year 2020 on average 10.4 days earlier than the baseline from 1999 to 2019 for a range of common British shrub and tree species.
The leaves also fall sooner. The dates of the leafless trees that we can usually observe at the end of the season, have arrived, still for 2020, with 4.3 days in advance for the same species, according to the report. Dr Darren Moorcroft, managing director of the Woodland Trust, said research may indicate whether interconnected species potentially become "out of sync with each other in the natural environment".
He said this could indicate future breaks in food chains, leading some species to struggle to survive.
Source - this article is based on The State Of The UK Climate 2020 which is published in the International Journal of Climatology of the Royal Meteorological Society.
Posted on 2021-07-31 11:08