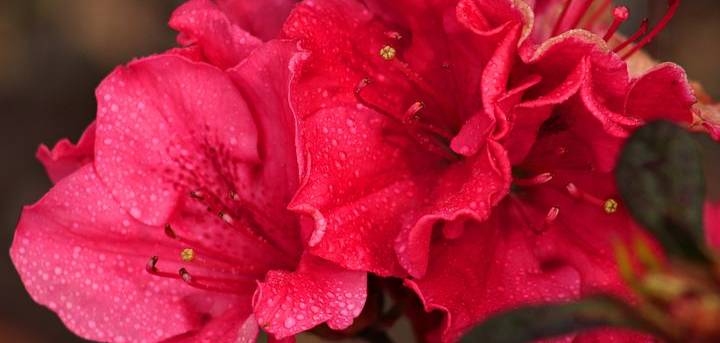 Biodiversity in danger.
|
Posted on 2022-06-03 16:55
Biodiversity represents the tremendous variety of life on Earth on which we all depend. But human influence, including from land use changes, overexploitation and climate change means the biodiversity on which we all depend is under threat. More than one million animal and plant species are now at risk of extinction.

Despite important progress that has been made to value, conserve and restore biodiversity, we have collectively failed to reverse a global decline.
Today, 22 May, is marked around the world as the International Day for Biological Diversity. Spearheaded by the Convention on Biological Diversity (CBD) – the major UN treaty that works for all aspects of biodiversity – this day is a chance to celebrate the kaleidoscope of nature that is all around us.

Later this year, the CBD will oversee the approval of new plan for nature: the global biodiversity framework. Its vital ambitions will include global targets to conserve, restore and sustainably use biodiversity. Today is an important opportunity to reflect on the crucial importance of these new targets. It is also a chance to explore the day's theme – "building a shared future for all life" – which looks to highlight how biodiversity underpins sustainable human development.
"International Biodiversity Day is a chance to celebrate. To celebrate the amazing diversity of life with which we share this planet. And to celebrate the many contributions that nature provides to people. But the day is also a chance to reflect. To reflect on the biodiversity crisis. The loss and degradation of life around us. And on the urgency and scale of the response needed to tackle this loss and ensure a nature-positive world." UNEP-WCMC Director Neville Ash
UNEP-WCMC: leading the way on biodiversity knowledge and capacity
As a global centre of excellence on biodiversity and nature's contributions to society and the economy, the team at the UN Environment Programme World Conservation Monitoring Centre (UNEP-WCMC) work at the interface of science, policy and conservation practice. All work at the Centre delivers on our "Nature and People" strategy to help to tackle the global crisis facing nature and support the transition to a sustainable future.

Our team of more than 200 conservationists, data scientists, economists and other experts works with international, national, sub-national and corporate partners to develop knowledge and capacity for a nature-positive world. The Centre is also providing core support to the CBD with development of the new global biodiversity framework.

Other examples of our work with governments and businesses to integrate nature include:
The UN biodiversity Lab:

a free open-access platform that gives users access to more than 400 data layers to explore and map how nature, climate change and human health and development interact
Taking stock of corporate action for nature:

our business and economy experts develop guidance for businesses and the finance sector, and help to bridge public and private sector action on biodiversity. Last month we released new findings and advice on how ready corporates are for nature-related financial disclosure
The time to act for biodiversity is now
Several decades have passed with limited progress being made towards international targets for nature. None have been fully met. With 2030 as a deadline to meet the latest international targets being developed, the need to deliver on commitments towards biodiversity has never been greater.
"Many commitments have been made, and all ambition must now be focused on the urgency of action and on the resources and political will required to deliver on these commitments if we are secure a shared future for all life on Earth." UNEP-WCMC Director Neville Ash
Source :
- UN WCMC
Posted on 2022-06-03 16:55