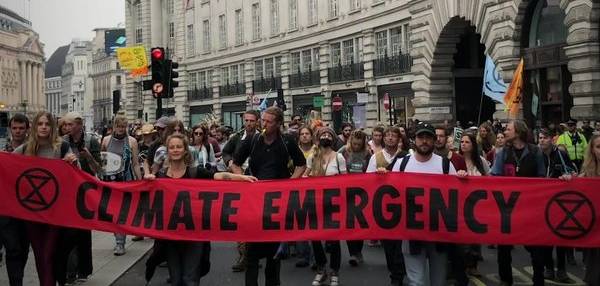 Action Rebellion
|
Posted on 2021-08-26 09:18
Extinction Rebellion is pounding the pavement to demand the impossible: we must stop climate change.
Environmental advocacy, Extinction Rebellion, is gearing up for two more full weeks of climate protests, due to take place across London. The group says thousands of people are expected to take part in their "Impossible Rebellion" , which plans to "target the root cause of the climate and ecological crisis" . Protests are planned in central locations including St James' Park, Piccadilly Circus - similar to those carried out in 2019 - but more are expected to take place in north and south London.
"Extinction Rebellion is a condensed version of the English Rebellion against extinction ," Rebellion against extinction , often abbreviated as XR, is an international environmental social movement that advocates the use of non-violent civil disobedience to incite governments to act to avoid tipping points in the climate system, loss of biodiversity and the risk of social and ecological collapse. Founded in the UK in May 2018, XR was officially launched in October of the same year. with the support of a hundred academics. In April 2019, the first "international week of rebellion" mobilized demonstrators in several countries, giving the movement an international dimension. Branches appear in particular in the United States, Canada, in Austral, Switzerland, France, Belgium, Germany, South Africa, and Brazil. The movement is regularly described as "radical", both by the press and by its media. ilitants, although part of the left considers him too timid. "(1)
The metropolitan police said that a "large-scale" operation would be put in place to manage the demonstrations while recognizing the validity of the movement initiated by the demonstrators whom the police called "an important cause" . Participants are invited to gather in Trafalgar Square. In a statement, the group said: "From Monday, August 23, Extinction Rebellion will occupy the streets, with the will to disrupt the City. We are addressing the root cause of the climate and ecological crisis - political economy. "The group says that disruptions will continue until the government agrees to immediately stop all new investments in fossil fuels. The movement has garnered the support of celebrities such as comedian and author Stephen Fry and actor Jerome Flynn. In a video shared on Twitter, Fry praised the group for trying to "get politicians to recalibrate, realign, revolutionize politics" through their protests. "
Flynn took part in a protest on Sunday evening in which three activists scaled the entrance to the Guildhall building in central London. A crowd of around 200 gathered as the trio applied red paint to the walls of the building and unfurled a banner that read "co-liberation freedom together". The Game Of Thrones actor told the PA News Agency that it was "more urgent than ever" for people to take a stand together. "We got used to some life-destroying systems, we created them, we became dependent on them and we know the world is burning as a result," he said.
"It seems necessary, more intense and more urgent than ever to get together. "It's time to collaborate, there are so many things trying to divide and pull us apart. "The Metropolitan Police said a total of nine people were arrested Sunday in connection with the activities. Police also added that three of them were arrested on suspicion of criminal damage and five others were arrested on conspiracy to cause further harm and have all been taken into custody, authorities said. .
Regarding the upcoming protests, Assistant Commissioner Matt Twist said: "We have put in place a major operation led by an experienced command team to effectively provide a proportionate response to what is going to be a planned protest to spread over. two weeks. "" We understand why this is such an important cause, no one ignores it, what we don't want is for people who protest to have an impact on the rights of others. "We don't want serious disruption to be caused in London"
Extinction Rebellion vowed to return to the streets earlier this month after a string of court victories, which saw activists successfully appealing convictions for previous actions.
(1) - Sources - Wikipedia
Posted on 2021-08-26 09:18