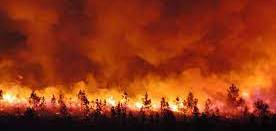 50.7° in Australia.
|
Posted on 2022-01-15 20:48
Last Thursday, an extreme temperature of 50.7°C was recorded in a remote town in Western Australia. This is a record according to the meteorological office. The mercury had never risen so much. However, such temperatures could well become normal, warned the Australian Council for the climate. The reason is global warming.
"New Western Australian heat record and equaled national temperature record!" , the state Bureau of Weather announced on Twitter. The coastal town of ' Onslow hit an all-time high of 50.7°C, a Western Australian record and the hottest temperature on record in Australia for 62 years' . On January 2, 1960, the country recorded a temperature of 50.7°C at Oodnadatta airport in South Australia, according to the bureau's website.
Climate Council director Martin Rice said the record is part of a long-term trend of global warming driven by the burning of coal, oil and gas. According to him, these extreme temperatures are already having "deadly catastrophic consequences" in Australia. " Heat waves are silent killers in Australia, they cause more deaths than any other extreme weather event ," he said.
Australia experienced an austral summer marked by major forest fires in the west of the country and deadly floods on its east coast. According to Martin Rice, without a reduction in greenhouse gas emissions, these record heats could become common. "In Sydney and Melbourne, by 2030 we will have 50 degree summer days ," he said.
At the same time, Argentina is also suffering the pangs of global warming. Indeed, it will be a month since firefighters have been fighting continuous forest fires. With temperatures around 40 degrees, firefighters were mobilized this weekend on forest fires in nine of the 23 provinces of Argentina, one of which has been active for more than a month and has destroyed nearly 6,000 hectares of vegetation, without injuries or injuries. evacuations to date.
Nearly a hundred firefighters and support personnel, supported by five planes and four helicopters, fought the most tenacious of these fires near Lake San Martin, in the Nahuel Huapi National Park, not far from the tourist town of Bariloche (1,500 km southwest of Buenos Aires), according to the National Fire Management Service (SNMF) "It is one of the most serious fires we have had in the region", indicated to AFP Lorena Ojeda, director SNMF operations, at the scene of this fire that has been going on since December 6 following lightning strikes. The wind and high temperatures, 35 to 40 degrees with peaks above, "contribute to the continued spread of the fire", with weather forecasts "of precipitation which may not be enough" , according to Lorena Ojeda.
About 5,900 hectares of "indigenous Andean forest" , with a mixture of cypress, bamboo, ñire (southern beech), mayten (tree of the spindle family), notro (shrub of the proteaceae) were impacted by the flames. But neither injured, nor evacuation was deplored in this rugged area, with a very low population density. "The fire is 50 km from Bariloche, but there is no risk of evacuation at the moment," firefighters told AFP.
Fires in the forest areas of southern and central Argentina, a country with an area more than five times larger than France, are an endemic occurrence of southern summers. But usually less in coastal areas, where many are reported this summer. The recent panorama "climate is very unfavorable, with two consecutive years of drought (...), a persistent heat wave" , explained the biologist and vice-minister of the Environment Sergio Federovisky to the public radio Radio Telam.
Friday's bulletin from the SNMF thus reported about thirty outbreaks of various sizes in nine distinct provinces, half of which were "active" . However, 2021 was one of the least impacted years in terms of hectares of forest destroyed by fire in five years, according to recent statistics from the SNMF: 330,000 ha recorded, against 1.1 million ha in 2020.
Posted on 2022-01-15 20:48