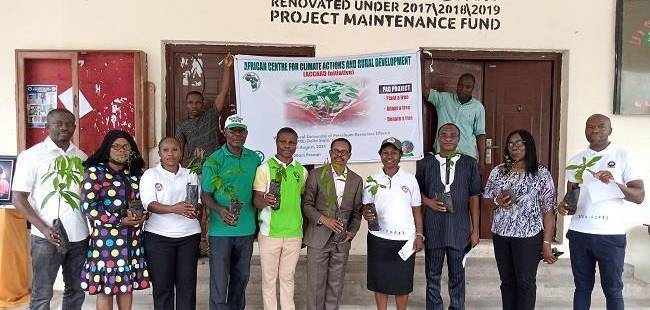 2nd ACCARD conference.
|
Posted on 2021-10-27 17:21
ACCARD mobilizes the voices of local populations in favor of climate action and negotiation.
The African Centre for Climate Action and Rural Development - ACCARD Initiative -, in its effort to deepen knowledge on climate change across Africa as well as to promote the participation of indigenous peoples and local populations in the governance of change as well as political processes at all levels, held its 2nd Niger Delta and pre-COP26 Climate Change Conference from October 7 to 8, 2021 in collaboration with the Federal University of Petroleum Resources (FUPRE).
The event that took place both physically and virtually is an annual regional gathering of key stakeholders, including academia and the private sector, to develop regional environmental and climate change management strategies in the Niger Delta in Nigeria. The conference has also become a useful platform to build capacity to lead local climate actions in Nigeria and Africa, as well as engage local and indigenous people to contribute to dialogue and negotiation on global climate change, including COP meetings.
Speaking at the conference, Prof. Arukwe Augustine from the Norwegian University of Science and Technology (NTNU) in Norway, addressing the problem and concerns raised by environmental management in Nigeria and governance challenges in the Niger Delta, said climate change poses a significant threat to security, peace and health in the world. A rigorous risk analysis will require the establishment of well-defined evaluation criteria. This will also imply that we carefully identify the environmental issues that we consider to be a risk and that we give a definition in operational terms. These are the governance challenges in the country. Challenges made necessary to properly regulate the political, social and economic objectives of human activities in environmental matters.
Professor Arukwe said it is time to look at climate solutions in five key areas: global debt to nature and domestic aid, decentralized environmental governance (community resource management and education); market and agent driven instruments (incentives and rewards); inter-sectoral environmental governance (employment, access) and communities, NGOs, national and international.
Likewise, Professor Rosemary Okoh, Gender Specialist and Assistant Vice Chancellor, Delta State University, highlighted the many challenges and impact of climate change facing women as well as the existing gaps. between the sexes.
According to her, the gender gap is a long-standing anomaly that is currently attracting a lot of attention. While the Sustainable Development Goals (SDGs) - United Nations Goal 5 - address gender inequality, other goals, including Goal 13, also address the needs of men and women, boys and girls. She concluded that climate change has disrupted seasonal cycles and ecosystems. Therefore, the water needs of agriculture, food production as well as livelihood mainly impact women.
Engineer Chika Umahi spoke about community engagement, the deployment of local knowledge, the role of youth and indigenous peoples in environmental pollution management and regulation in the Nigerian Niger Delta. In particular, he called on the communities to become actively involved in the management decision of the fight against pollution, in particular on the clean-up of oil spills.
Oil and security experts also advocated for greater community participation in environmental impact assessment (EIA), including in airport development projects, policies and environmental laws in Nigeria. He said that one of the benefits of involving communities and local citizens in environmental governance will help them protect and manage the natural resources of ancestral lands and live in a healthier environment.
Commonwealth Climate Change Specialist Dr Sam Ogallah spoke on "Mobilizing Climate Finance for Locally Led Climate Action". Participants exposed to climate finance, green bonds and climate funds mentioning Climate Investment Funds, Africa's Development and Green Climate Funds are some of the big funds.
Dr Ogallah clarified stakeholder concerns and perceived bottlenecks, especially for subnational governments in accessing these climate funds. He concluded by reiterating the need to build capacity, knowledge sharing and collaboration among stakeholders, which ACCARD already advocates in the region and in Africa.
The conference, which attracted massive participation from the private sector, applauded Dr Akpoyibo Sunny who was represented by Mr Emeka Offoŗ, author of "Addressing the climate emergency through green development; investment and opportunities in the Niger Delta ". He highlighted the role that the private sector can play in climate change mitigation and adaptation.
According to Mr Offor, the electricity sector is by far the largest source of carbon dioxide (CO2) - and accounts for around 40% of all energy-related emissions. He also listed some possibilities open to the private sector and other stakeholders to mobilize funds and develop innovative solutions.
In the closing speech of the conference, the founder and coordinator of the African Centre for Climate Actions and Rural Development (ACCARD) pledges to further support the series of annual conferences, to carry out more climate actions through the Africa. In addition, build the capacity of local and indigenous populations on climate change, including fundraising and continue to work with different stakeholders, to develop ecological and environmental solutions not only in the Niger Delta, but in Africa. in general.
He concluded by calling for collaboration and support, including financial for ACCARD, to serve more communities and other underserved groups in Africa.
Posted on 2021-10-27 17:21