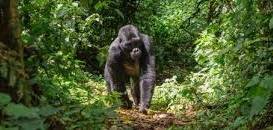 $ 1.5 billion for the Congo Basin.
|
Posted on 2021-11-03 17:16
The 26th International Climate Conference (COP 26), which is currently being held in Glasgow, Scotland, is already delivering its first results, which began on Sunday October 31st. On Monday, November 1, several countries announced the establishment of a $ 1.5 billion Fund intended to protect the Congo River basin.
According to a statement from the British government which hosts the event, a total of 12 donors will finance this Fund between 2021 and 2025. Although details of other funding have not been revealed, London has already announced its commitment to the tune of $ 409 million, to protect an area that is home to " the second largest rainforest in the world [and] that is threatened by logging, mining and industrial agriculture ."
Spanning six countries (Cameroon, Central African Republic, DRC, Congo, Equatorial Guinea and Gabon), the Congo Basin is considered the second lung of the planet after the Amazon. According to the World Wild Fund, it has fed and provided shelter to 75 million people for more than 50,000 years.
While the Africa that hosts it is considered one of the first victims of global warming, its protection is increasingly attracting the attention of the scientific community and international leaders. On the occasion of COP 26, the Collective of Ministers of the Environment and researchers for the defense of the Congo Basin thus called for the mobilization of $ 150 million to implement a ten-year research program, intended to improve scientific data on this vital area for the planet.
Note that in the wake of the new Fund, a global agreement was announced to end deforestation by 2030. Signed by leaders whose countries account for 85% of the world's forest area, this project will require an investment of $ 19.2 billion. While many such commitments have been made in the past without being honored, observers remain skeptical about the ability of countries to honor the new promises made in Glasgow.
Sources:
- Ecofin
Posted on 2021-11-03 17:16